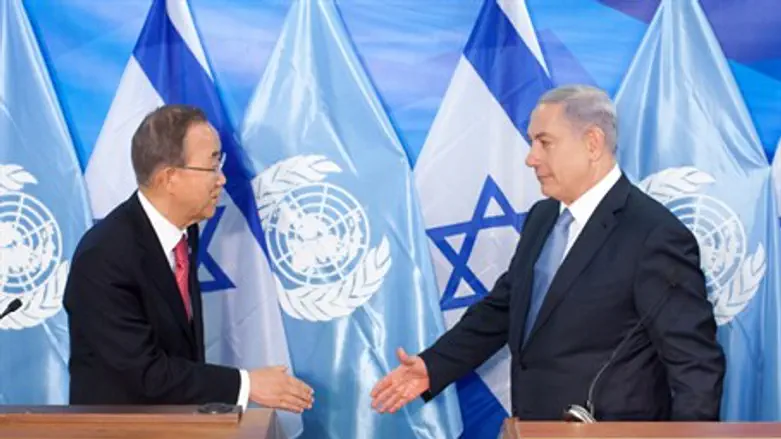 UN chief Ban Ki-Moon and PM Netanyahu
Flash 90
The United Nations on Wednesday called on Prime Minister Binyamin Netanyahu to translate into action his commitment to a two-state solution, Reuters reported.
During the recent election campaign in Israel, Netanyahu angered several Western leaders when he declared in a series of interviews he would do everything in his power to prevent the establishment of a Palestinian state.
He appeared to backtrack after the election, explaining in an interview that he wants "a sustainable, peaceful two-state solution" but Western leaders have continued to express skepticism that Netanyahu is being sincere.
"Secretary-General (Ban Ki-moon) is encouraged by the recent reaffirmations by Prime Minister Netanyahu of his commitment to 'the idea of a sustainable two-state solution' but notes this must be translated into actions," UN political affairs chief Jeffrey Feltman told the Security Council on Wednesday, according to Reuters.
Feltman said Israel needed to stop "sensitive and unilateral" activities, meaning construction in Judea and Samaria.
The comments come amid efforts by France to bring Israel and the Palestinian Authority (PA) back to the negotiating table for peace talks.
French Foreign Minister Laurent Fabius visited the region this past week, urging the resumption of Middle East peace talks but warning that continued Israeli construction in Judea and Samaria poses a threat to a final deal.
France has so far focused with Arab states on a possible resolution that would set negotiating parameters and establish a time period, possibly 18 months, to complete talks.
Work on the resolution began in March, immediately after the elections in Israel. Right after those elections, Fabius called for negotiations between Israel and the PA to resume in order to achieve "a comprehensive and lasting peace accord" based on the "two-state solution".
Referring to the proposed French resolution earlier this week, PA chairman Mahmoud Abbas said the PA would only back a proposal that raises all of their demands, indicating the demand for an independent Palestinian state on the 1949 Armistice lines with the eastern part of Jerusalem as its capital, and a clear date set for the end of negotiations and implementation of PA sovereignty.
Abbas emphasized that the PA fundamentally opposes recognizing Israel as a Jewish state, reiterating his vehement rejection of the recognition that Netanyahu requested in talks.
If recognition of the Jewish state is included in the French proposal the PA will not back it, warned the PA chairman.