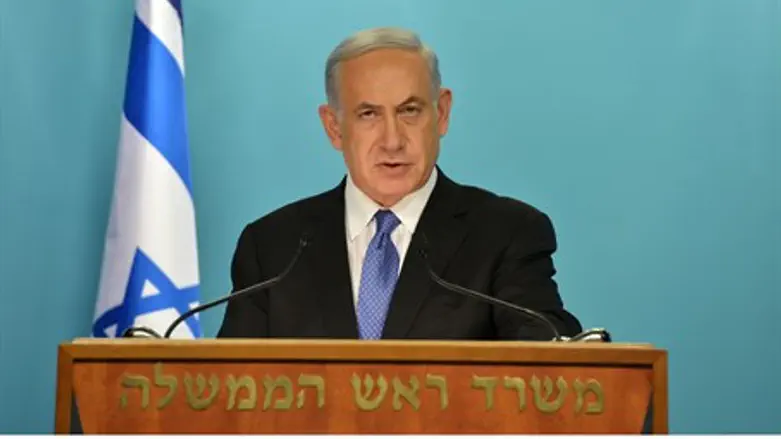 Prime Minister Binyamin Netanyahu
Kobi Gidon/GPO
Prime Minister Binyamin Netanyahu strongly condemned the Israeli Druze attack of an IDF ambulance Monday night, which resulted in the death of at least one Syrian citizen being transported to hospital for treatment. 
"I view this most severely," Netanyahu said at the international cyber conference. "We will not allow anyone to take the law into their own hands. We will not let anyone interfere with IDF soldiers in their mission. We'll find the perpetrators of the lynching and we will bring them to justice. We are a lawful state, not part of the anarchy around us." 
Netanyahu further turned to the leaders of the Israeli Druze community, calling on them to maintain calm and to encourage the Druze not to take the law into their own hands - as he asks every citizen of the State of Israel. 
Defense Minister Moshe Ya'alon also condemned the attack, which he labelled a "lynching."
"We won't be able to ignore it, and law enforcement authorities will deal with it heavy-handedly," he said in a statement.
Israeli Druze believe that Israel is providing medical treatment to jihadist rebels, who have carried out massacres against Druze in Syria. Both Israel and the IDF have strenuously denied providing medical care to terrorists. 
Druze leaders in Israel, many of whom have immediate family on the Syrian side of the border, have said that the attack on their brethren in Syria is a "red line". They have expressed their willingness to cross into Syria to protect their relatives - and specifically women and children - "without hesitation" numerous times over the past several weeks and have become increasingly vocal in comments to Israeli media. 
Despite this, Druze leaders widely condemned the attack overnight Monday/Tuesday as "serious and unnecessary," and warned that further attacks will lose the Israeli people's support for the Druze cause.