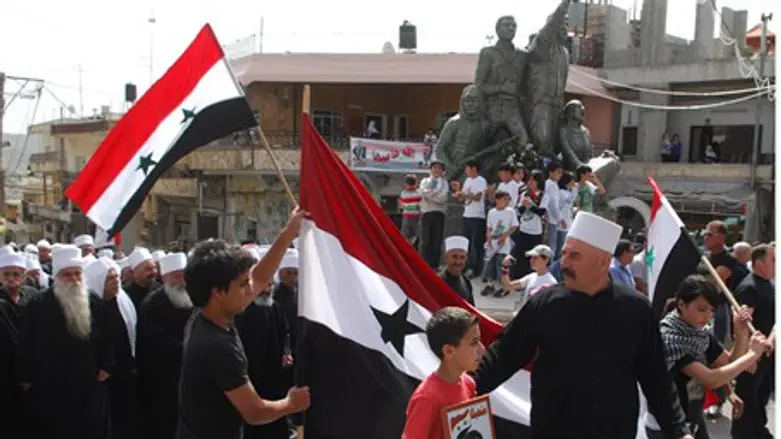 Israeli Druze in Golan Heights loyal to Syria (file)
Hamad Almakt/Flash 90
Residents of the Druze town of Majdal Shams were filmed on Monday night as they celebrated an attack by dozens of Israeli Druze on an IDF ambulance that was carrying wounded Syrian refugees to care in Israel.
The celebration included dancing, chants of joy and flag waving, according to Channel 2 News.
The background to the attacks on the ambulances is the civil war in neighboring Syria. The Israeli Druze believe that Israel is providing medical treatment to jihadist rebels, who have carried out massacres against Druze in Syria.
Israel has made clear that it does not allow terrorists from either the Islamic State (ISIS) or the Al-Qaeda-affiliate Al-Nusra Front to receive medical treatment in Israel, with the IDF stating on Monday night that Israel only intervenes in humanitarian cases.
Druze leaders in Israel, many of whom have immediate family on the Syrian side of the border, have said that the attack on their brethren in Syria is a "red line". They have expressed their willingness to cross into Syria to protect their relatives - and specifically women and children - "without hesitation."
Nevertheless, the leaders on Monday night condemned the attack on the ambulance.
Among those condemning the attack was Regional Cooperation Minister Ayoub Kara (Likud), who said, "There is no Israeli citizen who does not sympathize with the plight of the Druze in Israel in the face of the life threatening danger of their brethren in Syria, but in no case can an ambulance be attacked. I condemn the attack, it is immoral and certainly it is forbidden to endanger the lives of soldiers and civilians."
The deputy minister added that "unfortunately, as Druze, today we lost the sympathy of the Israeli people due to this serious and unnecessary incident that has no place in an orderly state. Also, I fear that as a result of this incident we have endangered our brothers on the other side."
The head of the Druze community in Israel, Sheikh Moafik Tarif, also strongly condemned the incident, according to Channel 2 News.
"This is not our way and we feel pain for what happened," he said. "This is a criminal act, carried out by lawless people and the authorities must take action."