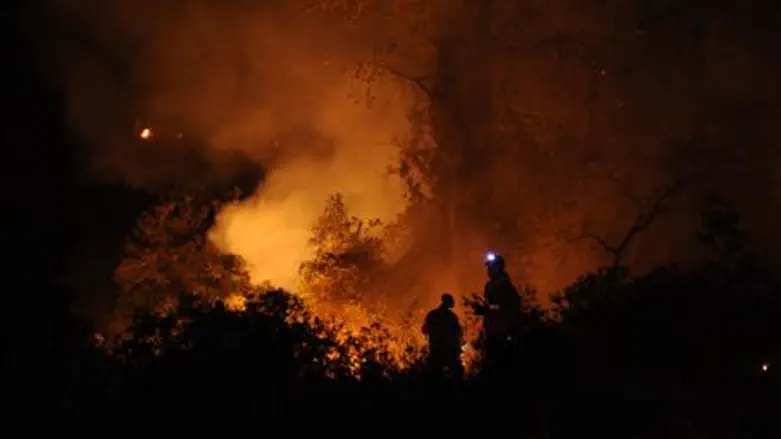 Firefighters in Hacarmel forest
Flash 90
A large brushfire continues to burn in the Har HaOsher area, south of Ramat Korazim, north of the Kinnereth (Sea of Galilee) on Saturday night.
Five firefighting crews from Tiveria and Karmiel have flooded the area, and four planes are at the scene monitoring the situation. The fire has still not been contained. 
This particular area has seen an upswing in brushfires, leading to suspicions that this blaze is deliberate arson, according to Walla! News.
Earlier Saturday, another fire spread through the foothills south of Tzfat. Several firefighting crews worked to contain that blaze. 
Fires are common in Israel during the summer, as the dry and arid desert heat can easily fan the flames of dying campfires. However, terrorists have also used the weather as an excuse to commit arson across multiple points in Israel, and a wave of large forest fires last year was attributed, at least in part, to deliberate attempts to overwhelm firefighting forces and destroy property. 
The 2010 Carmel fire near Haifa, considered one of Israel's worst and which killed 44 people, was suspected by police to have been started by two Arab youths from the Druze village of Usafia. Nevertheless, the criminal case against them was closed in 2011 over "insufficient evidence."