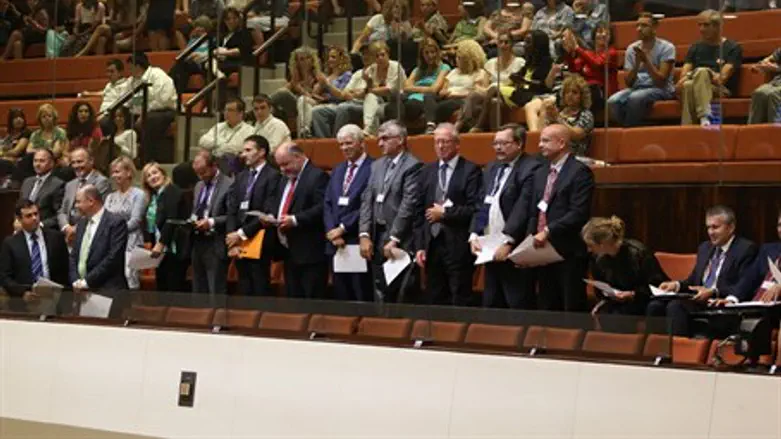 EU ambassadors at the Knesset
Knesset Spokesperson Unit
Amid talk of European Union (EU) sanctions and product labeling to boycott Israel, around 20 EU ambassadors and officials visited the Knesset on Wednesday to learn about Knesset Speaker Yuli Edelstein's "Green Knesset" project for environmental protection.
EU Ambassador to Israel Lars Faaborg-Andersen headed the group, and was accompanied by two other EU officials as well as ambassadors from 16 EU states.
Edelstein told the ambassadors, "the Knesset passes a lot of legislation on issues related to the environment, and we realized that by doing very simple things in the parliament building, such as saving paper, we can achieve a lot." He added that he was proud to receive the "Green Globe" award last year on behalf of the Knesset from the umbrella organization of environmental NGOs.
"We are proud that the Knesset is the 'greenest parliament in the world.' This is not merely a slogan; it is reality, which we changed here in the Knesset with a substantial investment, to the extent of a true revolution."

"We realized that Green Knesset also offered an opportunity to cooperate with other parliaments, including those in the EU," Edelstein continued. "From here we can take it to cooperation with neighboring countries."
Speaking about environmental cooperation agreements with international parliaments, Edelstein added, "we are glad that we succeeded in generating interest in these issues."
Turning to the recent wave of boycott talk threatening Israel with economic attacks, he said, "this is another good reason to vehemently oppose the evil wind of the various boycotts."
"Instead of boycotting – let`s talk! Instead of trying to isolate and remain entrenched in hatred, let us (cooperate) on issues that are shared by all mankind – the environment, sustainability and renewable energy," he emphasized.
We can unite on the environment
Faaborg-Andersen said in response, "the European Union is deeply concerned about climate change and its impacts. It is a major threat to our common future, to shared prosperity, security and stability. Addressing climate change is not a luxury but a crucial element for growth, well-being and employment." 
He called for December's UN climate conference to "deliver an ambitious, legally binding global climate agreement that will keep us on track to avoid dangerous climate change. Action is needed from all countries. ...The European Union has committed to a target of cutting our emissions by at least 40% by 2030."
Faaborg-Andersen went on to promise cooperation with Israel and other Mediterranean countries to reduce emissions and protect the environment.

MK David Amsalem (Likud), Chairman of the Internal Affairs and Environment Committee, told the EU envoys that while the relations between Israel and the EU are "complex" and tend to focus on difficult and controversial issues, "we can work together on issues such as the environment." 

He noted that the Knesset uses "green electricity" and that most water in Israel is reclaimed water. Israel, Amsalem said, is so advanced in the field of waste separation "that we have almost no waste."
"Something must be done to help humanity," added MK Benny Begin (Likud), a geologist by trade. He said that despite the discovery of natural gas off the coast of Israel, the country "does not want its energy supply to hinge solely on two pipes from the Mediterranean."
Hungarian Ambassador to Israel Andor Nagy congratulated the Knesset on its environmental efforts, saying "you put Israel on the map of sustainability."