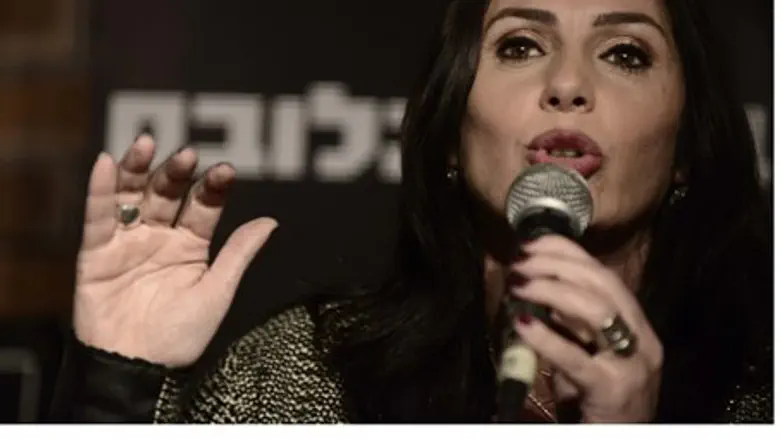 Miri Regev
Tomer Neuberg/Flash 90
Culture and Sports Minister Miri Regev (Likud) decided Tuesday to stop all state funding of the Al Midan Theater, which performs a play that glorifies Walid Daka, the terrorist who abducted and murdered 19-year-old IDF soldier Moshe Tamam in 1984.
The decision follows Education Minister Naftali Bennett's (Jewish Home) decision to stop sending school students to view the play, which is based on Daka's writings.
Regev met relatives of Tamam Tuesday, along with Dr. Haim Perlok, Chairman of the Israeli Council for Culture and Arts, which decides how to distribute the budget allocated to the Ministry of Sports and Culture for the fields of theater, music, dance and poetry.
Perlok said that he visited Al Midan a few days ago and was amazed to find that the theater managers did not know how to account for some of its funding. He told Regev that the theater's director told him point-blank that the theater was indeed a political one, and that the director of the play that centers on Daka, "The Parallel Time," told him that he identifies with Daka and is inspired by him.
Perlok added that Daka uses an internet connection in his jail cell for communicating with the outside world, including disseminating his plays and keeping constant contact with the director of the play.
The Tamam family and a representative of the Almagor Terror Victims Organization added information about the terrorist's prison conditions, and Regev said she would verify it.
Dr. Perlok sugested that all funding for Al Midan be halted until the inquiry regarding the sources of the funding and the theater's communications with certain unnamed "elements."
Regev accepted the recommendation and froze the assets until the inquiry is finalized.
The 19-year-old Tamam was abducted and murdered by Democratic Front for the Liberation of Palestine (DFLP) terrorists from Baka al-Gharbiya as he hitched a ride with them on his way to the town of Havatzelet Hasharon. The abduction didn't occur in Judea or Samaria, but rather in the coastal region between Haifa and Tel Aviv.
After holding him captive for several days the terrorists murdered Tamam by mutilation, gouging out his eyes before cutting off parts of his body starting with his genitals and then shooting him.