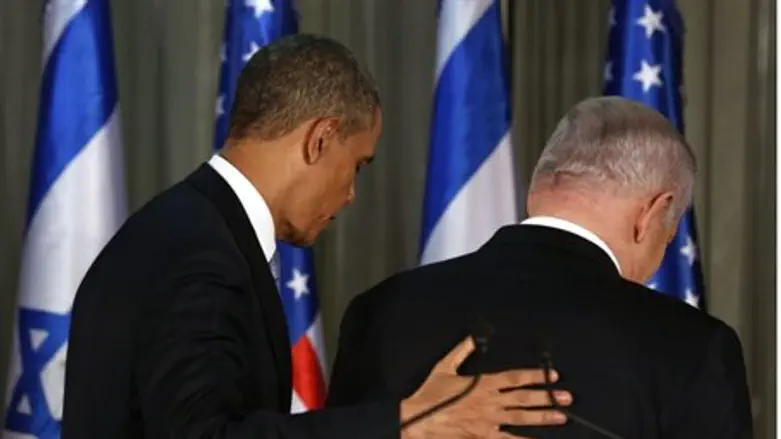 Obama, Netanyahu (file)
Reuters
Sources close to Prime Minister Binyamin Netanyahu denied, in a conversation with Arutz Sheva Tuesday, that he has received an invitation to go to Washington one month from now and meet President Barack Obama, after the US and other world powers finalize a deal regarding Iran's nuclear weapons program. The alleged development was reported by Yediot Aharonot.
The sources said, though, that "if Netanyahu does receive such an invitation soon, he will certainly respond positively and head for the US to meet the American president."
The Obama administration also denied the report and said that the two leaders will indeed meet, but a date for this has not been set.
According to the report, Obama wants to talk to Netanyahu in order to lessen his opposition to the nuclear deal he intends to sign with Iran – and to offer Israel various perks as compensation for the severe threat under which the Jewish state will find itself following a deal with Iran.
Diplomatic sources estimated that if a deal is reached with Tehran, Obama would like Netanyahu to express some degree of support for it, even if it is only faint support, before it is brought before Congress. The Administration reportedly thinks that if Netanyahu's issues a statement about the deal that is not overly negative, the deal would have a better chance of passing in Congress.