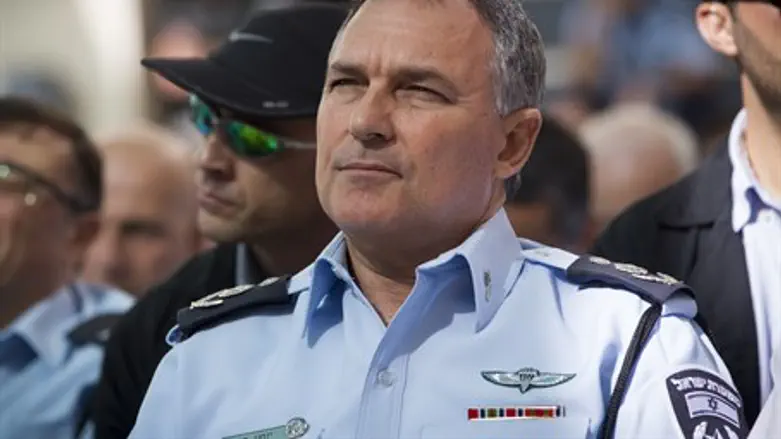 Yohanan Danino
Miriam Alster/Flash 90
Widespread criticism has been launched against the Israeli justice system on social media, after a policeman who beat a Ethiopian Israeli soldier was not prosecuted for his actions. 
But criticism from within the police force takes an entirely different perspective on the issue. 
"From the first moment I saw the video, it was clear the officer acted properly and responded to provocation and violence of the soldier," a senior police officer from the Tel Aviv District Court told Walla! News.
Several officers have expressed disdain toward Police Commissioner Yohanan Danino over how he handled the incident - not for dismissing one of the officers and keeping the other, but for firing the first at all. 
"Unfortunately, the commissioner decided to make the policeman a scapegoat and sacrificed him," the officer said. 
"The Police Commissioner once again proved that there is no backup for cops," a different officer stated. "This is the Commissioner who was not able to stand bravely and face the public and protect the cop for his actions, but was quick to throw him under the bus." 
Critics also say Danino failed to prepare the Israel Police for the scale of the Ethiopian Israeli riots which have been rolling through Tel Aviv. 
"The peak was later events, when the police chief and the Tel Aviv police command sent hundreds of police officers to demonstrations without riot shielding in order to drive back the violent mob," a third officer said. "More than 50 police officers were injured, and not one senior police official, including the police chief, stood behind the cops." 
The officer noted that the entire incident will have a ripple effect on the way crime is handled in the Israel Police. 
"Today, every policeman knows that the Police Commissioner will only take care of himself and will charge any policeman - even if he acted legally," the officer lamented. "We are required to cope with events alone." 
"This is a dangerous message," he concluded. "It means commissioners will do everything, including the abandonment of the police, only to get good PR."