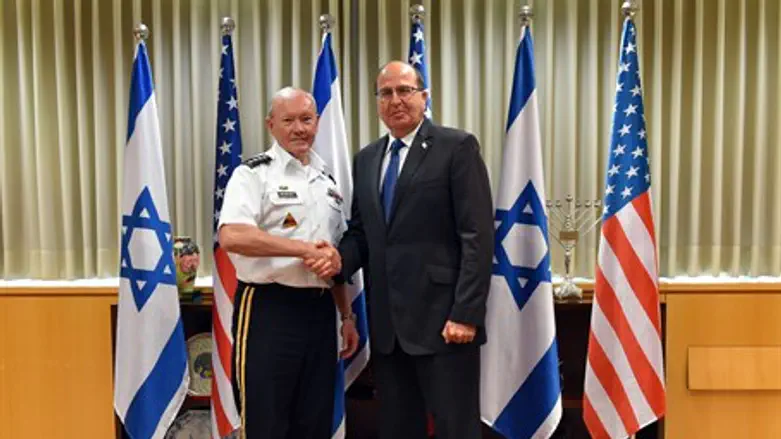 Yaalon and Dempsey
Ariel Hermoni/Ministry of Defense
Israeli Defense Minister Moshe Yaalon met Tuesday afternoon with US Army head Gen. Martin Dempsey, at his office in Tel Aviv.
The visit is Dempsey's fifth and last to Israel as Chairman of the Joint Chiefs of Staff; Gen. Joseph Dunford has been selected to take over from him this coming October.
The two discussed bilateral ties between the American and Israeli defense establishments, as well as a range of mutual threats and the ongoing regional instability in the Middle East.
Prior to meeting with Yaalon, Dempsey received a badge of honor from the IDF.
Watch: Dempsey receives IDF badge of honor:
During their meeting, Yaalon praised Dempsey's record and hailed the enduring ties between their two respective countries as crucial.
"I want to emphasize how much we value your work, which has strengthened the friendship and partnership between the defense establishments," Yaalon said.
"We are all facing the challenge of jihadism in the region," he continued, listing the wide range of threats spanning both Sunni and Shia Islamist groups, including "in Syria, in Lebanon; the radical Shia axis; the ISIS infrastructure in Sinai; and of course the terror infrastructure in Gaza."
"We believe that vis-a-vis all developments connected to the regional turmoil, Israel and the United States are on the same page, to tackle these challenges," he said.
Yaalon went on to stress that the strategic partnership between Israel and the US was deep and exceptional - in spite of political differences.
"We greatly value the United States' commitment to our security," he told Dempsey. "Your personal commitment, the commitment of the Secretary of Defense, and the commitments of President Obama to our security."
Yaalon also addressed the threat posed by Iran, less than a month before a final deal is due to be signed between Tehran and world powers which will see Iran maintain its core nuclear program. Israeli leaders have repeatedly warned the deal is a "bad" one which will only serve to embolden Iranian regional aggression.
"We are very concerned about Iran's role in the region, not just in the present time but more than that, after it signs a deal," Yaalon warned.
"We recognize Iran's fingerprints in every conflict in the Middle East," he continued, referring to Tehran's deep involvement and support for terrorist proxies in conflicts including Gaza, Iraq, Syria and Yemen, as well as its role in stoking tensions in Lebanon.
"The Iranian regime is playing a very criminal role, and we fear that the deal will enable the Iranians to rebuild their economy and (use it) to increase its support for terrorism in the Middle East and globally."
"The turbulence in the Middle East is immense; in Syria alone there are some 30 terrorist organizations we need to deal with. They aren't engaging with us at the moment, and we are not involved in with is going on there, but the time may come when that all changes.
"In such a case we will deal them a heavy blow," he warned.
Islamist groups on both sides of the Syrian civil war - including ISIS and Al Qaeda's Nusra Front, as well as pro-regime Shia militias including Hezbollah - are inherently hostile to Israel, although all are currently focusing primarily on more immediate targets.
General Dempsey responded by thanking Yaalon and the IDF for the honorary badge of appreciation he was awarded earlier Tuesday, saying he was accepting in on behalf of the entire US armed forces.
"Today I received a medal from the IDF. This medal I accepted in the name of hundreds of thousands of American servicemen and women, who feel the partnership, the friendship and the commitment which exists between the United States and Israel," he said.
"The Israeli Chief of Staff [Lt.-Gen. Gadi Eizenkot] and myself speak almost every month. I have been here five times."
"The (mutual) issues and challenges require relations like these. I could not imagine a world in which we did not have a relationship like this," Dempsey continued.
"I am proud to be a part of it, and I am completely certain that my successor will continue them, and even strengthen them further."