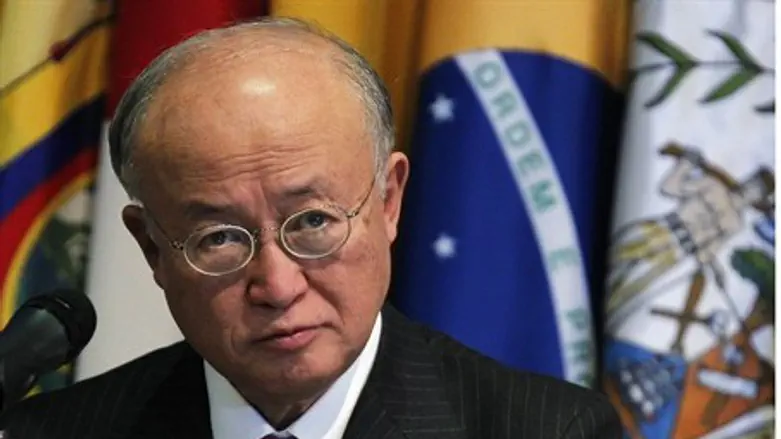 IAEA Director General Yukiya Amano
Reuters
Concluding that Iran's nuclear program is entirely peaceful will take "years and years", the head of the UN's atomic watchdog said Monday, even if Iran and the six world powers sign an accord this month.
"I cannot say at this stage how long it will take (to make this assessment) but it is a matter of years at least. Not months, not weeks, but years. Years and years," International Atomic Energy Agency (IAEA) chief Yukiya Amano told reporters, according to the AFP news agency.
Amano said reaching this "broader conclusion" on Iran's nuclear program depended in large part on Tehran implementing the Additional Protocol of the Nuclear Non-Proliferation Treaty, as some 120 countries have done.
Under a framework nuclear deal agreed by Iran and six world powers in April that is meant to be finalized by the end of this month, Iran undertook to provisionally apply the protocol.
Doing so will oblige Iran to submit a "very detailed declaration" of its nuclear facilities and to update this every three months, Amano said, according to AFP.
The protocol also gives the IAEA the right to request access to sites -- including military ones -- where it suspects the presence of nuclear material that has not been declared to the agency.
The IAEA has for years tried to probe suspicions that Tehran worked on atomic arms and has reiterated that more cooperation is needed by Iran for full clarity on its present activities.
Iran and the IAEA agreed in November of 2013 on a new attempt to probe the accusations. The United States and its allies also included the investigation into a to-do list for talks with Iran meant to curb its nuclear programs in exchange for sanctions relief.
The IAEA is focused on 12 alleged activities that point to Iranian attempts to make such weapons, including suspicions that Tehran worked on the development on a nuclear payload for missiles.
The agency relaunched its probe two years ago by asking for information on less sensitive work related to nuclear arms allegedly carried out by Iran, with hopes of moving to larger issues later.
However, the IAEA has continuously reported little progress in its attempts to probe the allegations against Iran, and Amano recently said that the agency had limited progress in its inquiry into possible military dimensions of Iran's nuclear activities.
The agency already indicated back in November that Iran is refusing to answer questions on the military aspects of its program and recently indicated that the probe is essentially stalled.