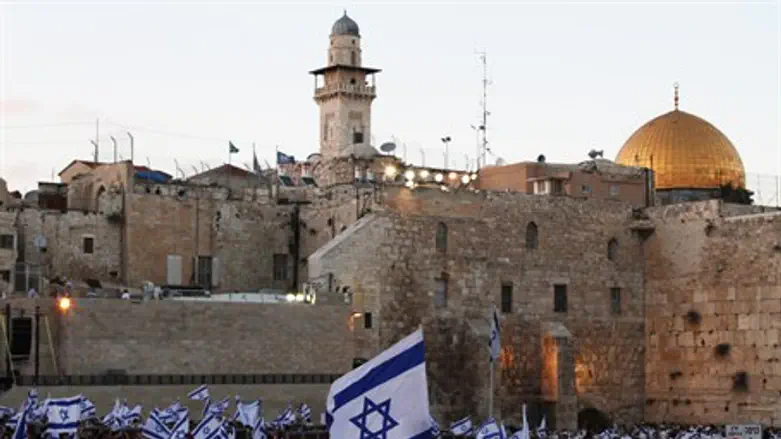 Jerusalem Day celebrations at the Kotel
Nicky Kelvin/Flash 90
The Palestinian Authority (PA) on Monday welcomed the decision of the United States Supreme Court to reject an appeal to have Menachem Binyamin Zivotofsky's passport list "Jerusalem, Israel" as his place of birth, in a key case regarding the city's status as Israel's capital.
Nabil Abu Rudeineh, a spokesman for PA Chairman Mahmoud Abbas, said that the Supreme Court's decision is consistent with the decisions of international institutions, the UN Security Council and the General Assembly.
He further stated that "the decision sends an obvious message that Israel is an occupying power of East al-Quds (eastern Jerusalem -ed.), the West Bank (Judea and Samaria -ed.) and the Gaza Strip."
In its decision, the Supreme Court on Monday sided with President Barack Obama and criticized Congress for "overstepping its bounds" when it tried to press Obama to have Zivotofsky's passport list "Jerusalem, Israel" as his place of birth.
By a 6-3 majority, the Supreme Court struck down a law from 2002 which requires the State Department to recognize Jerusalem as part of Israel, reports National Journal.
Both the administrations of Obama and George W. Bush refused to implement the law; the eastern part of the 3,000-year-old capital of the Jewish state was liberated in the 1967 Six Day War.
As it stands currently, a child born in Jerusalem has "Jerusalem" listed on their American passport without a country. Official U.S. policy has been not to recognize any sovereignty on either side over Jerusalem ever since the Truman administration.
Immigration Absorption Minister Ze'ev Elkin (Likud) reacted to the decision, noting that Jerusalem is the capital of the Jewish state and "will remain that for eternity."
Elkin, whose portfolio includes Jerusalem, called on the Obama administration to accept "the simple fact that is a fundament of the Jewish heritage, and incidentally of Christian heritage as well - Jerusalem is the heart of the Land of Israel, and the eternal capital of the State of Israel!"
Also responding to the decision was Deputy Defense Minister Rabbi Eli Ben-Dahan (Jewish Home), who lives in the southeastern Jerusalem neighborhood of Har Homa.
"United Jerusalem is the eternal capital of the Jewish people and the center of the world," asserted Ben-Dahan. "This is how it was and how it will be."
"The Obama administration should express a clear position that Jerusalem is the capital of the state of Israel, especially in a period in which movements that negate the existence of the state are raising their heads," he added.