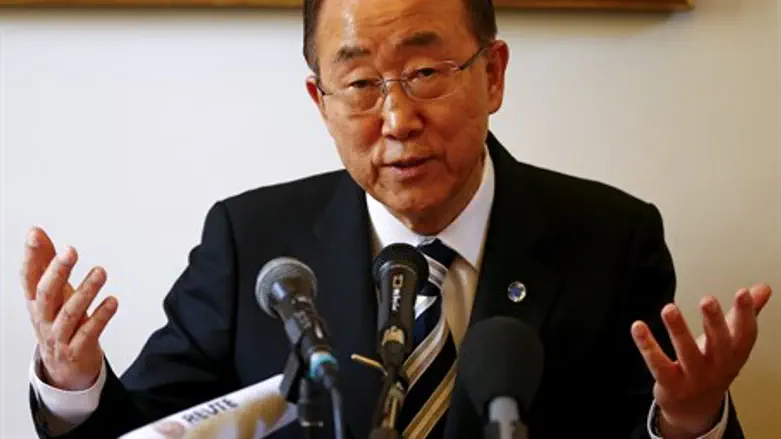 UN Secretary-General Ban Ki-moon
Reuters
United Nations Secretary-General Ban Ki-Moon has made the final decision not to include the Israel Defense Forces on the "List
of Shame" of children's rights violators. 
Ban's decision goes against the recommendation of the Special Representative to the Secretary-General for Children and Armed Conflict, Leila Zerrougui of Algeria, as well as a push from several human rights groups. 
According to a UN document, Haaretz reported, UN agencies were divided on whether to put the IDF on its list of children's rights violators after the claim that 500 children were killed in Gaza during counter-terror Operation Protective Edge last summer. 
The final decision was left to Ban, who received intense pressure from both Israel and the United States to keep Israel's army off the list.  
Although declining to include the IDF on the "blacklist," Ban still leveled sharp criticism at the Jewish state for its policies in Gaza and Judea-Samaria, urging Israel to change its ways. 
"The unprecedented and unacceptable scale of the impact on children in 2014 raises grave concerns about Israel's compliance with international humanitarian law, notably the principles of distinction, proportionality and precaution in attack, and respect for international human rights law, particularly in relation to excessive use of force," Ban said in his report.
"I urge Israel to take concrete and immediate steps, including by reviewing existing policies and practices, to protect children, to prevent the killing and maiming of children, and to respect the special protections afforded to schools and hospitals."
"An essential measure in this regard is ensuring accountability for perpetrators of alleged violations," the Secretary-General added. "I further urge Israel to engage in a dialogue with my special representative and the United Nations to ensure that there is no recurrence in grave violations against children."
Israel, for its part, has argued that many casualties in Gaza were caused by Hamas's cynical embedding of its terror structure in civilian centers such as school and hospitals, and using the sites to launch attacks on Israeli population centers.
In spite of the criticism, Israeli Ambassador to the UN Ron Prosor welcomed the decision not to include the IDF on the "blacklist".
Ban "was right not to submit to the dictates of the terrorist organizations and the Arab states, in his decision not to include Israel in this shameful list, together with organizations like ISIS, Al-Qaeda and the Taliban," Prosor said.