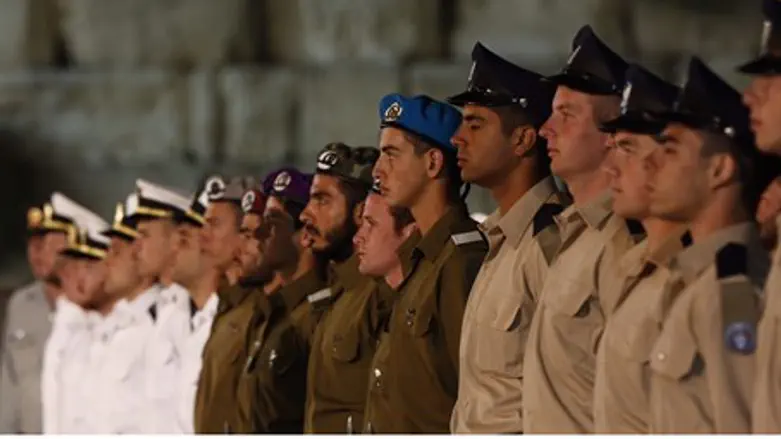 IDF soldiers at Kotel ceremony (illustration)
Yonatan Sindel/Flash 90
At the swearing-in ceremony of recruits to the elite Givati Brigade at the Kotel (Western Wall) on Thursday evening, the IDF Chief Educational Officer Brig. Gen. Avner Paz-Tzuk will give a speech instead of an IDF rabbi, who until now has always performed the function.
According to Channel 2, Kotel Chief Rabbi Shmuel Rabinowitz intends to hold an emergency meeting on the change of the status quo at the traditional IDF Kotel swearing-in ceremonies with the relevant sources in the army.
Just this March, Paz-Tzuk wrote a letter to the head of the IDF Manpower Directorate, Maj. Gen. Hagi Topolansky, in which he recommended removing rabbis from the IDF swearing-in ceremonies.
The order to keep IDF rabbis out of the ceremonies will take effect with Thursday night's ceremony, and comes after Haaretz reported on Thursday morning that IDF Chief of Staff Gadi Eizenkot intends to weaken the authority of the IDF Rabbinate.
Former IDF Chief Rabbi Yisrael Weiss called on the current IDF Chief Rabbi Rafi Peretz to demand clear answers from Eizenkot in response to the report, in an interview with Israel Radio (Galei Yisrael).
"I say clearly, Chief Rabbi Peretz is a true friend of mine, he is a close friend of mine, I very much appreciate all of his work," said Rabbi Weiss. "He now needs to go in to the chief of staff, even if he's sitting in the middle of the most important meeting, and ask him for clarifications on this article in Haaretz."
Rabbi Weiss continued, "if he doesn't get the answers, he must return the keys to his office. But he doesn't need to do that alone, he needs to do that together with the the Deputy Defense Minister who was Deputy Minister of Religious Affairs before that," a reference to MK Eli Ben-Dahan (Jewish Home).
Earlier on Thursday MK Moti Yogev (Jewish Home), who formerly served as a commander in the IDF Maglan special forces unit, sharply condemned the move to weaken the military rabbinate.
"The attempts to harm the military rabbinate's authority to connect the soldiers to the values of the Jewish people are an attack on the strength of the IDF, its fighting spirit and the security of Israel," warned Yogev.
He emphasized that "the military rabbinate, in its activities, connects the soldiers to the history of the people of Israel, to the connection of the people of Israel to Jerusalem, the capital of Israel, to the tradition of Israel, and all of these are as the roots to a tree that give it the strength to grow and blossom."
"The military rabbinate has proven itself in all of the recent combat operations, on the land, air and sea," concluded the MK. "The IDF rabbis today come from combat and commanding roles and were with the forces to strengthen their spirit, before and during the military maneuvers and the course of battle."