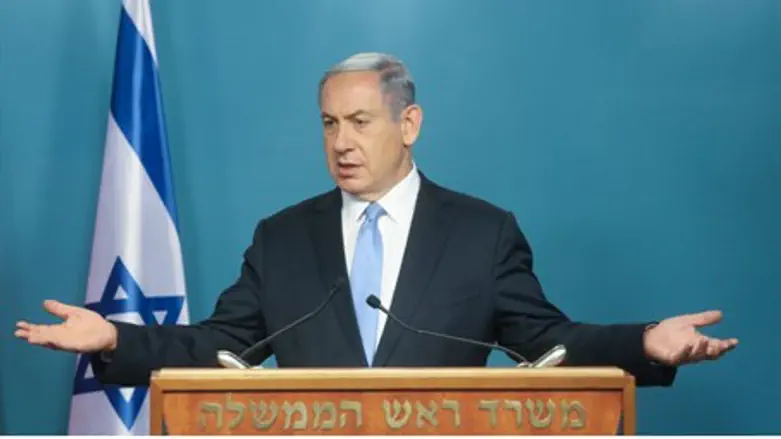 Prime Minister Binyamin Netanyahu
Marc Israel Sellem / Flash 90
Prime Minister Binyamin Netanyahu met for the first time with a new ministerial committee on the integration of Israeli citizens of Ethiopian descent into Israeli society Tuesday, following the turbulent protests in April and earlier this month. 
"Last month we met here with public representatives of Israelis who had come from Ethiopia and we heard very harsh things," Netanyahu began. "We heard about the deep pain and the sense of humiliation that they feel, as well as the various problems of the community, including the young people."
"I directed that a special committee be formed that would be a permanent committee that would meet upon the formation of the Government, as we are doing, and on a regular basis to oversee action in various spheres and to monitor the implementation," he noted.
"These issues include education, housing, employment, culture and religious issues. In these areas I have instructed that proper and expedited work – so I hope – be done in the various ministries in cooperation with representatives of the Ethiopian public, and that draft decisions on these issues be submitted forthwith."
"I want rapid work; I do not want things to drag out. I want us to hold discussions, to decide and to proceed." 
Netanyahu then addressed the incident which started it all: the beating of Damas Pakada, an Ethiopian Jewish soldier who was brutally assaulted by a police officer in Holon.
"Regarding the issue at hand, there are claims of discrimination by the law enforcement authorities," he began. 
"First of all, it needs to be made clear – everyone is obligated to completely obey the law and enforcement cannot distinguish between citizens," he said. "While the law is the law; enforcement is – of course – enforcement, there is the question of whether or not there are steps we can take to correct excessive enforcement, if indeed this exists."
"I think that we need to receive a clear picture of the situation and see what the Israel Police can do," he added. "To the extent that corrections are necessary, we will indeed make them." 
Netanyahu then addressed the root causes. 
"I think that beyond all of this, there is something heartfelt here that I mentioned at the commemoration of those members of Ethiopian community who fell on the way here, some 4,000," he said. "I said that the most tragic thing is the idea of racism, which contravenes the ethos of the Jewish People."
"We cannot accept this in the Jewish state and we will fight it," he vowed. "Beyond all of the various steps that we will discuss today, the idea that we would discriminate against people because of the color of their skin and that people should fear to walk the streets in Israel because of the color of their skin, this is infuriating and we will fix it."
"We will also instill here a cultural change, not just in administrative or even legal decisions," he concluded. "We want to instill a cultural change in the hearts of all Israelis."