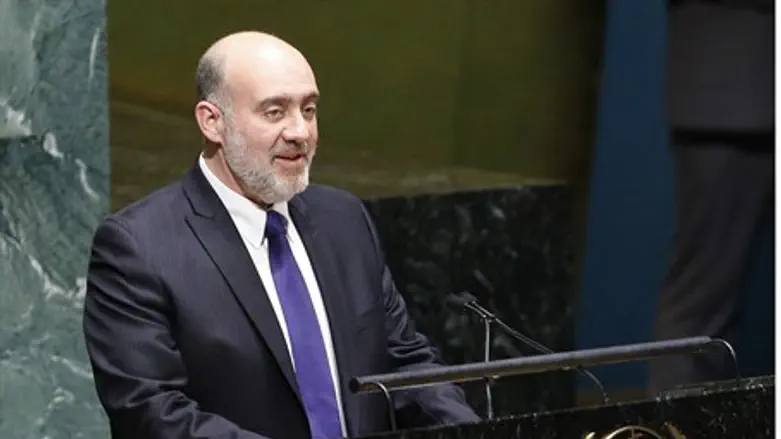 Ron Prosor
Reuters
Israel's ambassador to the United Nations, Ron Prosor, on Monday criticized the UN's decision to recognize the Palestinian Rights Center (PRC), a Hamas front group, as a non-governmental organization (NGO).
"Until today, the UN has given Hamas discounts and let it strengthen its activities. Now, the UN went one step further, and gave Hamas a welcoming celebration at its main entrance, allowing it to be a full participant," said Prosor.
"The organization, which received the majority of the votes today (among its supporters: Iran, Pakistan, Sudan, Turkey, Venezuela, China and Cuba), denies Israel's right to exist, supports the right of return of refugees to Israeli territory in order to establish a Palestinian state instead of the Jewish state, and opposes to the peace process," he continued.
"In 2010, Israel determined that the organization was illegal, because of its ties to Hamas. According to this script, one day we may find Hezbollah sitting at the Security Council and ISIS voting at the Human Rights Council. This is the peak season for the UN's Theatre of the Absurd," concluded the Israeli envoy.
Following the recognition, the PRC now has full access to UN events and participation in debates, and - most importantly - has gained more ammo for international legitimacy.
Watchdog groups monitoring the Muslim Brotherhood have noted that the PRC's leaders include Ghassan Faour, a member of Hamas front group Interpal, and Zaher Birawi, the head of the pro-Hamas Al-Hiwar TV with ties to Muslim Brotherhood leaders in the UK.
Earlier on Monday, Deputy Foreign Minister Tzipi Hotovely called the decision "outrageous".
"Hamas, only last summer, was hiding behind women and children to fire missiles at Israeli civilian centers," Hotovely said.
"Allowing a Hamas-affiliated organization into UN institutions is awarding a prize to terrorism and its activities - there is no other way to interpret this decision," she added.