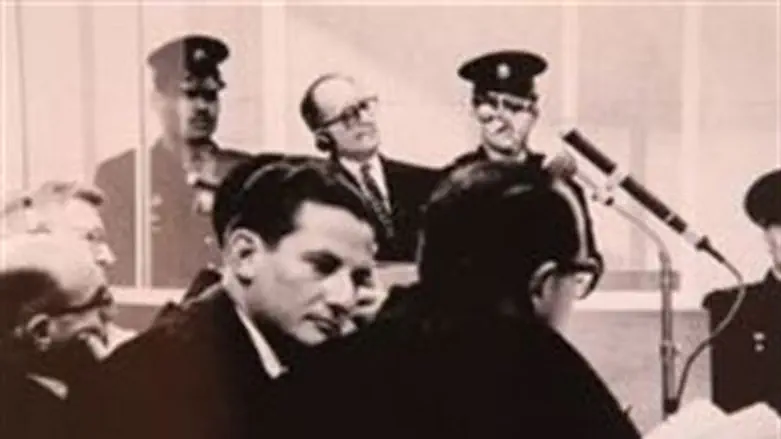 Eichmann Trial
Flash 90
Exactly fifty-three years after the execution of Nazi criminal Adolf Eichmann in Israel, the State Archive has revealed the hitherto unknown fact that the mass murderer's wife, Vera, was allowed to visit him in jail.
The visit took place in late April of 1962, about one month before Eichmann's execution. According to Channel 2's website, Vera Eichmann's visit to Israel was kept secret until now. She entered his cell in Ramle Prison accompanied by two female prison guards, and the three stayed there for about 90 minutes.
Vera Eichmann had formally asked Israel for permission to visit her husband and the matter was brought before the government on March 18, 1962. According to then-Justice Minister Dov Yosef's statement to the Cabinet, Prime Minister David Ben Gurion thought Israel would have a hard time answering world criticism if it refused the request.
Then-Foreign Minister Golda Meir presented the matter to the Knesset's Foreign Affairs and Defense Committee and said: "I have no sentiments toward his wife but there is no point in making things more difficult for us in a matter that does not cause us any damage."
The visit took place at 1:20 am on April 30, and ended at 1:43, when Vera Eichmann and her two escorts left the cell.
Other visitors to Eichmann's cell were a priest and the priest's wife, and Eichmann's lawyer.
One of the principle architects of the Holocaust, Eichmann was responsible for organizing the logistics of Hitler's "Final Solution" which involved the extermination of six million Jews.
He escaped from a prisoner-of-war camp after World War II and fled to Argentina in 1950, where he lived under a pseudonym until he was snatched by Mossad agents in Buenos Aires in May 1960.  
He went on trial in Israel in April 1961, was sentenced to death eight months later and hanged on May 31, 1962.