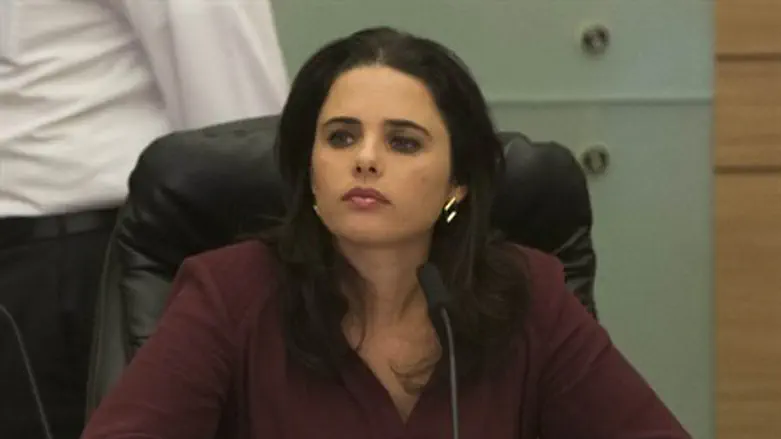 Ayelet Shaked
Yonatan Sindel/Flash 90
Although the law proposed by Justice Minister Ayelet Shaked to increase the punishments for rock throwers got all the headlines Sunday, the Ministerial Law Committee approved a second law proposed by the Minister – to ban the use and possession of cellular phones by terrorist prisoners.
Shaked presented the law to the Committee as news of the latest violation of the law leaked out – with terrorist Abdullah Barghouti, who is serving 67 life sentences for his role in the murder of dozens of Jews, giving an interview via a cellphone that was smuggled into his cell. The phone was apparently delivered by another prisoner who had brought it in to the prison.
In the interview with Hamas-run A-Rai Radio, Barghouti called on terrorists to increase their activity against Israel.
What makes it possible for a prisoner to bring a phone into a top security facility is the inconclusive nature of current laws on the matter. While, officially, prison wardens have the right to ban phones, security prisoners have often brought demands for phone use to the High Court, which has sometimes agreed that they ought to be given phones for "humanitarian reasons."
To prevent illicit phone use, the Prisons Service operates "dampening" equipment, which prevents prisoners from making or receiving calls. But the technology is not foolproof, as the fact of the latest Barghouti interview shows.
Under Shaked's new proposal, which was authored in conjunction with the Prisons Service, all prisoners who are convicted of security crimes or murders will be banned from using cellphones. The law will apply equally to all security prisoners, Arab or Jewish, Shaked said.