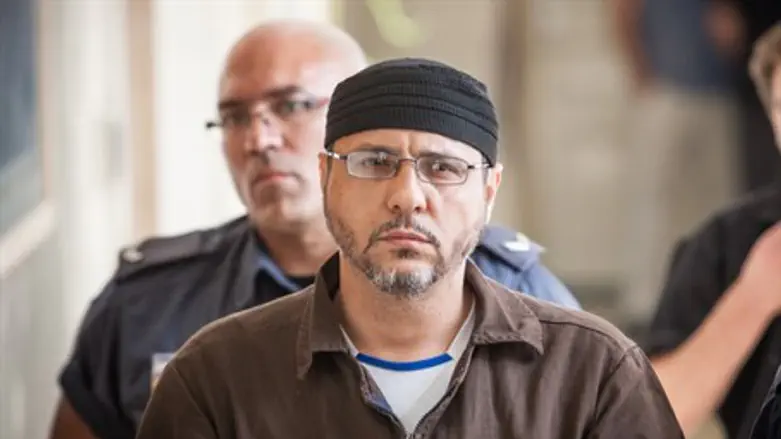 Abdullah Barghouti
Noam Moskowitz/Flash90
Terrorist Abdullah Barghouti was interviewed on a Gaza radio station Sunday, despite being currently interred in an Israeli prison for his crimes. 
During the interview, Barghouti turned to Hamas and urged them not to rush to reach a deal on the issue of releasing terrorists, which the terror organization has vowed to do numerous times over the past year and a half and in various contexts. 
"We are patient," he said, "and will continue to be so even if we'd be released in a thousand years."
Barghouti was arrested in March 2003 and sentenced in 2004 to 67 life sentences for his role in the murders of Israelis in a string of suicide bombings - including the suicide attack at the Sbarro restaurant in Jerusalem in 2001, the Ben Yehuda street bombings in 2001, the Cafe Moment bombing in 2002, the Hebrew University bombing in 2002, and the 2002 Rishon Letzion club bombing, among others. 
The Israel Prison Service (IPS) said in response that the interview was apparently carried out by a mobile phone smuggled onto the premises and that Barghouti will be subject to disciplinary measures. 
Cell phones are a common contraband for terrorists in Israel, who have used the devices on more than one occasion to communicate with other terrorists of their organizations to form terror cells from behind prison walls.