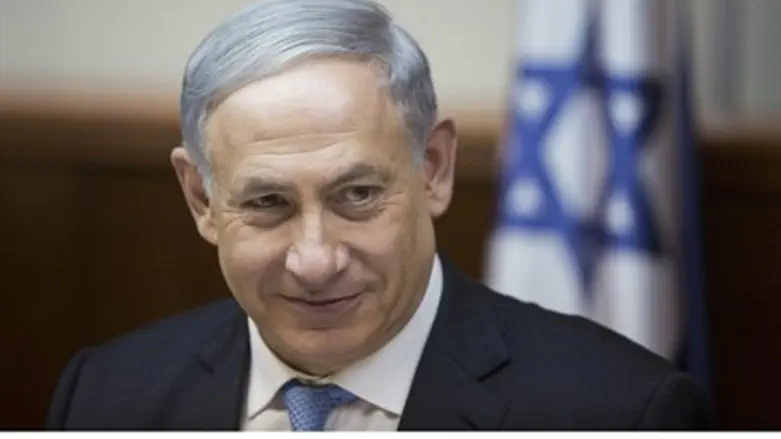 Netanyahu speaks after swearing-in of the government
Yonatan Sindel/Flash90
Starting on Sunday, Prime Minister Binyamin Netanyahu will have veto power over the bills that are discussed in the Ministerial Committee for Legislation, according to a report by Haaretz.
This power, in keeping with coalition agreements Netanyahu's Likud party made, will enable the Prime Minister to prevent government-sponsored bills from coming before the Ministerial Committee for Legislation, and consequently the Knesset.
Private bills sponsored by individual MKs, too, are usually presented to the Committee on Legislation in the hope that it will approve them, thus throwing the weight of the majority coalition behind them. 
Netanyahu's veto power in the Committee does not mean he can veto bills that the Knesset votes upon, or that he can prevent privately sponsored bills from being presented in the Knesset; MKs from both Coalition and Opposition can choose not to ask for the Committee's opinion on their bills, but a bill's chances of passing become slim if the Coalition does not support it.
Good rapport
The man with the authority to veto bills is Netanyahu's representative on the committee, Tourism Minister Yariv Levin. Levin also serves as deputy to the Ministerial Committee for Legislation's chairwoman, Justice Minister Ayelet Shaked of Jewish Home. 
According to Levin, the veto will be used very rarely. "I don't want to make serial use of it," the minister told Haaretz, adding that he and Shaked shared a "good rapport."
The Left, however, was unsurprisingly irked. 
"Are we for autocracy?" MK Dov Khenin (Joint Arab List) fired last week. "When the prime minister finds himself in the minority, he can veto a bill and prevent it from moving forward, which is completely unacceptable in the democratic concept and our form of government."
Still, such an executive power is certainly not unheard of. For instance, all United States presidents have the power of veto, one of the many "checks and balances" of the US government. 
But Netanyahu's motives might be more political - and intended more to block legislators to the right of him than to his left. According to Likud sources, Netanyahu insisted on the veto clause out of concern Shaked would promote legislation that could pit the Prime Minister against Israel's judicial system or the international community.
The sources allege there was also concern Shaked would use her role as chairwoman of the committee to advance Jewish Home policy. 
In any case, the Ministerial Committee for Legislation will convene its first meeting on Sunday under Shaked's chairmanship. Likud has a majority on the committee with seven members, while Jewish Home and Kulanu have two members and Shas has one.