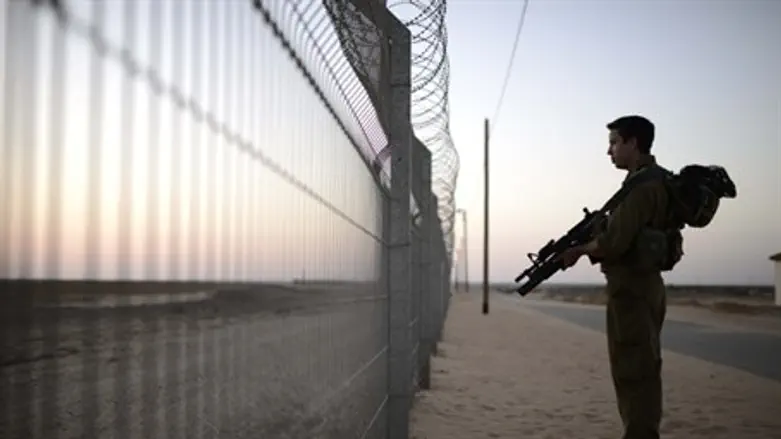 Gaza border fence (illustration)
Flash 90
Qatari official Mohammed al-Amadi revealed this weekend that Israel is allowing the reconstruction of Gaza after the ruin caused by Hamas's last terror war in Operation Protective Edge, and isn't blocking Hamas's key backer Qatar from sending in all sorts of materials.
Al-Amadi, who heads the Qatari council to rebuild Gaza, told the Palestinian Arab Ma'an News Agency that "the reconstruction process is progressing very well as construction material is being shipped to Gaza everyday without any obstacles."
The Qatari official put the lie to the claims that Israel is subjecting Gaza to a blockade and leaving residents of the terror stronghold without housing or means to rebuild their homes.
"Israel has authorized all the projects funded by Qatar in the Gaza Strip," revealed al-Amadi. "The process of rebuilding Gaza is advancing very well, at a time when construction materials are being transferred to Gaza every day without hitting blockages."
According to al-Amadi the new building project contracts have already been signed and bids for additional projects will be formulated in the near future - all funded by Qatar, a key financial backer keeping the Hamas terrorist organization afloat and able to threaten Israel.
The building projects are to include reconstruction the Salah al-Din road, Sheikh Hamad Ibn Khalifa City, and sections of Gaza's sea road among other initiatives.
Qatar was the nation to promise the most to rebuild Gaza after last summer's war, pledging a full $1 billion. However, up till now it reportedly has only transferred 10% of that amount.
Hamas has not just been using construction efforts to rebuild civilian homes - it has been siphoning the construction materials to rebuild its terror tunnels meant to attack from within Israeli territory.
It also just last week paved a road a mere 250 meters (820 feet) from the security border, right across from Kibbutz Nahal Oz, which Senior Hamas member Fathi Hamad announced is meant to be ready for "the moment to attack."