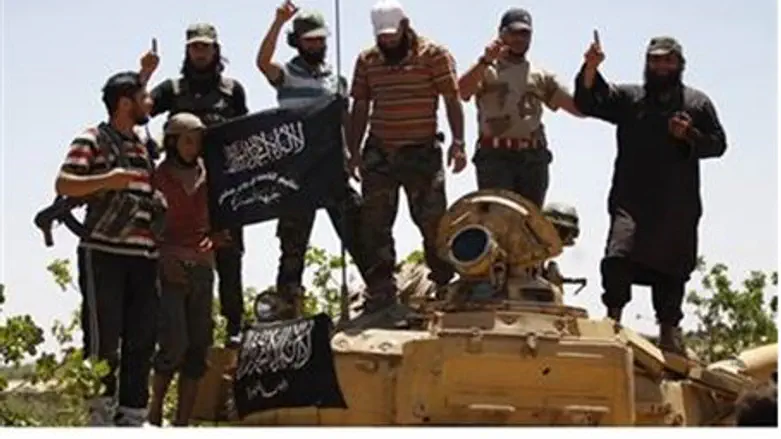 Nusra Front terrorists (file)
Reuters
Al Qaeda's Syria franchise is striving to reinvent itself as a legitimate opposition force that is more acceptable to the West, but it is unlikely to succeed, analysts said Thursday.
In a rare television interview, Nusra Front chief Abu Mohamed al-Jolani vowed not to use Syria as a springboard to attack the West and said he would be willing to protect minorities, reports AFP.
"It's all part of a normalization process that Al-Qaeda in Syria has been seeking to do for some time now," said Charlie Winter, an analyst on jihadism at the London-based Quilliam Foundation.
"It wants to appear more palatable to the West...it was kind of like an infomercial for 'Al-Nusra, the moderates'," he said of Wednesday's interview with Qatari-owned Al Jazeera.
Nusra and its sadistic rival, the Islamic State (ISIS) group, are both designated as terrorist organizations by the United States since 2012.
In recent months, the Al Qaeda branch has become one of the most powerful forces in northwest Syria after a series of victories in the province of Idlib, including the provincial capital and a large military base.
But the group is seeking to transform its image in the West to one of a legitimate political opponent to Syrian President Bashar al-Assad, analysts said, and Jolani's interview was the first step.
"Al-Nusra is trying to change the West's opinion, to make it see Al-Nusra as a political actor and a Syrian opposition actor," said Lina Khatib, director of the Carnegie Middle East Center.
"This is one of the main reasons Jolani was sending messages of reassurance to the West."
Nusra Front's "pragmatism"
The shift may be part of a renewed push by regional powers including Turkey, Saudi Arabia, and Qatar to bolster Syrian opposition groups, analysts said.
Qatar, in particular, "had a relatively moderating influence on Al-Nusra that was clear in this interview," said Thomas Pierret, a Syria expert at the University of Edinburgh.
His face covered in a black shawl, Jolani accused Washington of coordinating with the Syrian government over air strikes on jihadist-controlled territory.
But he said Nusra had been instructed to focus on toppling Assad, not attacking the West.
The terrorist chief also played down fears of future attacks on Syrian minorities, including Christians and Alawites, the offshoot of Shi'ite Islam to which the Assad clan belongs.
It was a clear juxtaposition with ISIS, which has carried out atrocities including videotaped beheadings and mass killings, sowing fear among minority communities in the Middle East.
Jolani's messages were "an example of the pragmatism with which Al-Nusra has begun to act," Khatib said.
"Al-Nusra has political ambitions, and Jolani's interview is the beginning of presenting the group as a political actor in Syria, not just an extremist Islamist organization," she told AFP.
Nusra Front itself has been accused of indiscriminately targeting civilians with suicide attacks, car bombs and executions.
Committed to jihad
The jihadist leader attempted to walk a fine line between mollifying other Islamist leaders in Syria and positioning his group as a more moderate choice than ISIS.
"Jolani was trying to say to the world that he's not like this extremist ISIS group," Winter said.
"At the same time, he tried to appease the jihadist community. He needed to toe the line between satisfying both camps," he added.
Despite this careful positioning, analysts do not expect the West to change its view of the group.
"Jolani effectively 'reassured' the West and minorities, but did not compromise in doctrine or in terms of Al-Nusra's links to Al Qaeda," Pierret said.
With an "Al Qaeda in the Levant" flag featured prominently on the table in front of him during the interview, Jolani seemed to dispel rumors that his group would split with Al Qaeda's central command.
"I don't think Jolani imagines he'll change the mind of the US president, or that many Alawites or Christians will think he seems like a great guy," said Aron Lund, editor of the Syria in Crisis website.
Despite his apparent overtures to minorities, he conditioned their protection on turning to "his own Salafi interpretation of Sunni Islam," he said.
"He's not stepping away from his ideology," added Lund.
Winter said there was "a propensity to forget that Jolani came from the Islamic State of Iraq, the forebearer of ISIS."
While Nusra may try to present itself as more moderate than its jihadist rival, "it's all a temporary phase of the broader question of their implementation of jihad," he said.