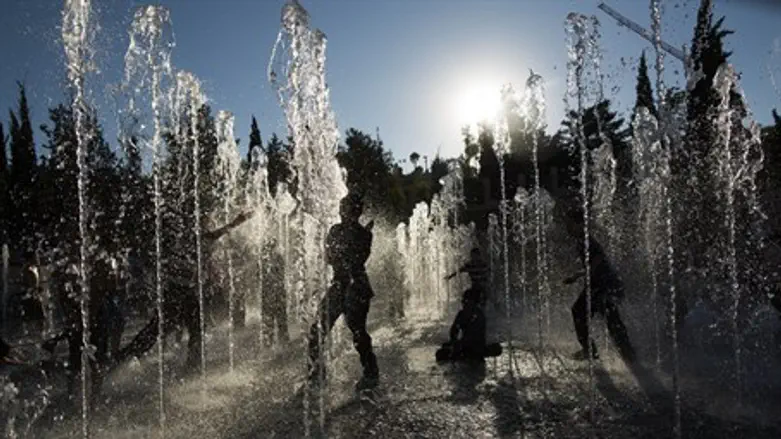 Children play in Jerusalem water fountain on hot day (file)
Yonatan Sindel/Flash 90
If you live in Israel and don't need to go outside today (Wednesday) - don't. The heat wave that has been building in recent days is reaching a peak, and will reach record highs for the year.
Nearly the entire country will break 40 degrees Celsius (104 degrees Fahrenheit) on Wednesday as the temperatures spike.
The worst brunt of the heat will be borne by the southern port city of Eilat and the Dead Sea region, both of which are estimated to reach upwards of 45 C (113 F).
Be'er Sheva in the Negev will fare little better, hitting 43 C (over 109 F), and the coastal cities of Tel Aviv and Ashkelon will likewise come in for 42 C (over 107 F).
Haifa on the coast in the north, as well as Kiryat Shmona near the Lebanese border in the north will both reach 40 C, while the capital city Jerusalem will enjoy a reprieve at 38 C (100 F).
If you thought things will cool off at night you'd be wrong according to the forecasters, who predict the heat will only intensify on Wednesday night.
There will be a heavy heat wave in the mountainous regions, although the rest of the regions are to fare even worse with heats reaching extreme levels.
Sometime early on Thursday the heat wave is expected to break, first on the coast and then moving inland. Strong winds will bring in a haze, with a light trickle of rain possible in certain areas.
And then on Friday there is to be a noted drop in temperatures, even as the humidity is to rise and the skies are to be partially cloudy. Rainfall is possible in the north and coastal regions.
By Shabbat (Saturday), the weather is to be partially cloudy with temperatures under seasonal averages, with rain again possible in the north and on the coast.