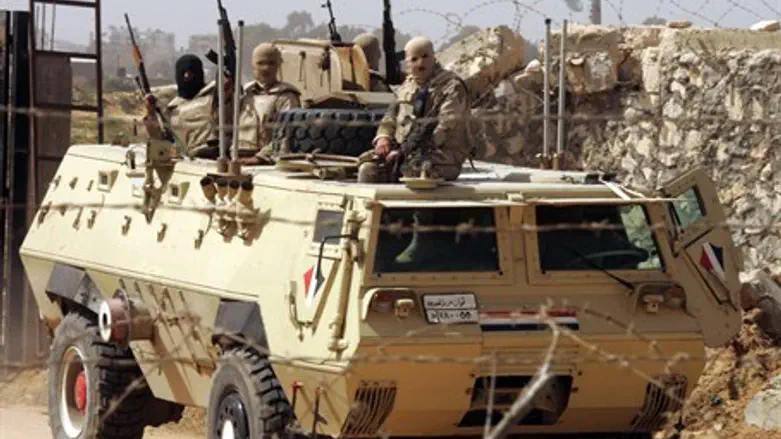 Egyptian soldiers in Rafah, Gaza
Abed Rahim Khatib/Flash 90
Egypt reopened its Rafah border crossing with Gaza for two days on Tuesday, Palestinian Arab border officials said, according to the AFP news agency.
Maher Abu Sabha, director of border crossings in the Gaza Strip, said traffic was permitted into Gaza only, to allow the return of Palestinians stranded in Egypt.
Egypt closed the crossing, the only access point to the Gaza Strip not controlled by Israel, after a bombing in the Sinai Peninsula in October killed 30 of its soldiers.
It has since temporarily reopened the crossing several times.
Egypt is continuing to crackdown on Gaza terrorists, which it says are helping Sinai-based terror groups carry out attacks.
As part of that crackdown, Egypt is establishing a buffer zone along the border with Gaza. The buffer was initially planned to be 500 meters wide, but was later expanded by another 500 meters.
Egyptian sources have revealed that Hamas terrorists had provided the weapons for the lethal attacks in El-Arish through one of its smuggling tunnels under the border to Sinai, thus making the buffer zone necessary.
Despite Egypt's measures, on January 29 another 30 people were killed when rockets and a car bomb targeted a military base and other security posts in North Sinai.
Ansar Beit al-Maqdis, a jihadist movement affiliated to the Islamic State group, has claimed most of the attacks in North Sinai, including those in October and January.