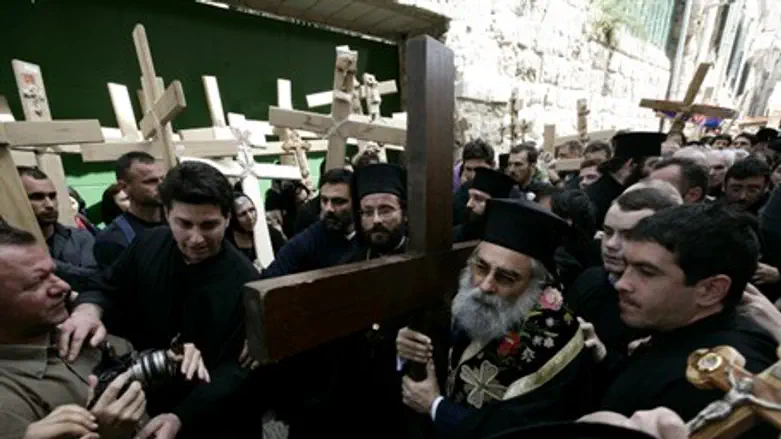 Orthodox priests
Abir Sultan/Flash 90
An Israeli court has ordered the Greek Orthodox church to stump up $2.9 million in fees owed to a local lawyer for cases dating back to 2002, court authorities said Wednesday.
The Israel Courts Administration said Tel Aviv District Court on Tuesday ruled in favor of attorney Moshe Lipke's claims for settlement of bills
totaling 11.3 million shekels for representing the Orthodox Patriarchate in Jerusalem in property dealings and in a stormy dispute with former Patriarch Irineos I.
It said the oldest claim was from November 2002 and related to legal work concerning a luxury seafront apartment complex in Jaffa, northern Israel.
The most recent was for the 2005 removal of Irineos.
The patriarchate's press office could not be reached for comment on Wednesday evening.
The church elected the incumbent patriarch, Theophilos III, in August 2005 after dismissing Irineos over an alleged multi-million-dollar sale of church land in Arab neighborhoods in Jerusalem to Jewish investors.
The Greek Orthodox Church is the biggest and wealthiest Christian Church in the Holy Land.
Its Jerusalem patriarchate commands massive wealth, largely in land portfolios in Israel, the Palestinian Authority (PA) and Jordan.