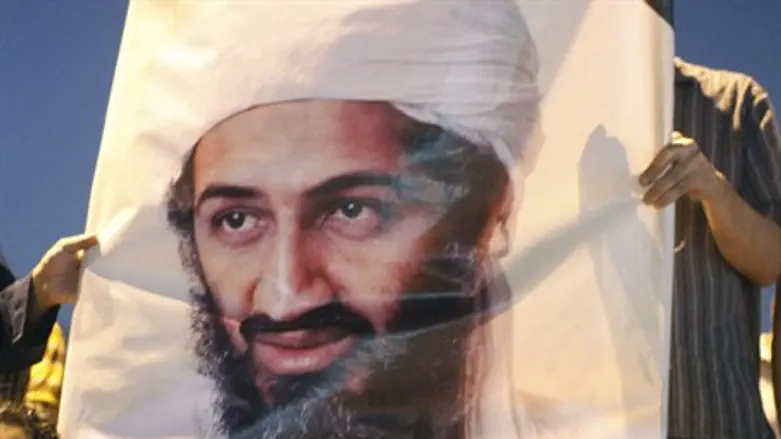 Al Qaeda supporters protest Bin Laden killing
Reuters
Al Qaeda mastermind Osama Bin Laden was obsessed with attacking the US and pleaded with the terror group not to get involved in infighting in the Muslim terror world, according to an AFP exposé released Wednesday. 
"The focus should be on killing and fighting the American people and their representatives," Bin Laden wrote, according to a set of declassified documents given exclusively to the news outlet ahead of their official release. 
All of the documents were allegedly found by US Navy Seals when they raided Bin Laden's compound in May 2011; they are the Central Intelligence Agency (CIA)'s translations of original materials into English. 
The documents are being released now due to US President Barack Obama's directive for "increased transparency," according to Jeff Anchukaitis, spokesman for the US Director of National Intelligence's office - as well as in accordance with a law mandating that all Bin Laden documents be reviewed for possible release.
CIA officials maintained that the documents had long been planned to be declassified, despite accusations from renowned journalist Seymour Hersh just weeks ago that the Bin Laden affair was heavily doctored for the media and that large parts of the raid were presented to the public with fabricated evidence. 
Deeply paranoid, warns of disunity
The documents reveal Bin Laden's deep paranoia, and his mindfulness that he was being targeted despite being in hiding in Pakistan. 
The terror leader advises against communicating by email, warns followers not to meet in large groups, and at one point, was convinced that a microphone was placed on one of his wives' clothes. 
They also reveal that Bin Laden predicted the disunity tearing apart the Muslim world from 2013 onward, to some extent; he called on Al Qaeda to leave internal conflicts with police forces in all Arab countries and focus solely on striking the US. 
"We should stop operations against the army and the police in all regions, especially Yemen," Bin Laden wrote. 
In particular, a series of scathing letters show Al Qaeda calling on Bin Laden and then-deputy Ayman Al-Zawahiri to condemn the beginnings of what would become the Islamic State terror group (ISIS), which disassociated from Al Qaeda in 2013. 
"If you still can, then this is your last chance to remedy the Jihad breakdown that is about to take place in Iraq, that is mostly caused by your followers," a group of jihadists fired to Bin Laden in 2007. 
He was also apparently taken aback by the 2010-2011 Arab Spring movement and urged jihadists to take advantage of the power vacuum to spread their message of terror.