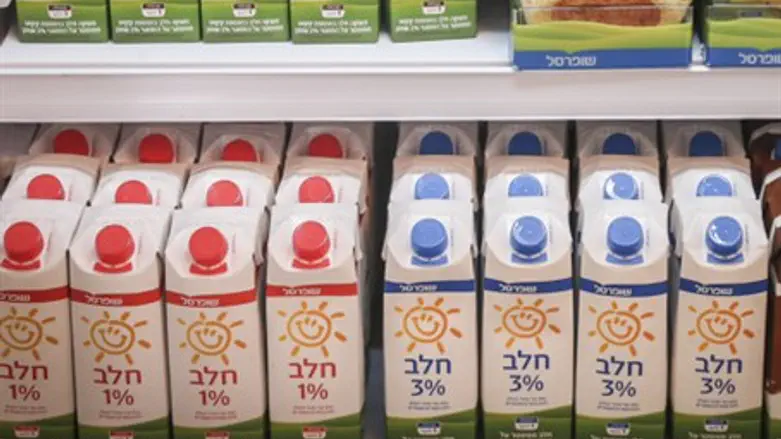 Milk (illustrative)
Flash90
Israel's milk production is one of the highest worldwide, Agriculture Minister Uri Ariel (Jewish Home) stated Tuesday, and consumption is on the rise as well.  
According to the Ministry of Agriculture and Rural Development and the Dairy Board, 2014 was characterized by an 0.8% rise in demand for milk and dairy products. The average Israeli consumed 174 liters of locally produced dairy products in 2014. 
The average Israeli drinks 54 liters (14 gallons) of milk per year, consumes 23 liters (97 cups) of milk and yogurt products, eats about 12 kilograms (26.4 lbs) of soft cheese, and about 4 kilograms (8.8 lbs) of hard cheese. 
Milk yield per cow in Israel is the highest in the world, Ariel noted, due to Israeli dairy farming practices, as well as research and training by the Ministry of Agriculture and Rural Development, and associated organizations.
Despite this, there were just 810 dairy farms in Israel as of 2014, with approximately 3,000 people employed as dairy farmers - compared to 1,026 farms at the end of 2005, a decrease of 21%. However, average production increased in the same period by approximately 59%.
"This is a direct result of efficiency along with advanced Israeli technology developed by advanced Israeli research institutes," Ariel said Tuesday. "We will continue to develop and promote such developments, and I intend to take action to increase investment in research and exports around the world." 
Despite the boon, Israelis still pay more for milk than their European counterparts, though production per capita is about the same, according to a report in February.