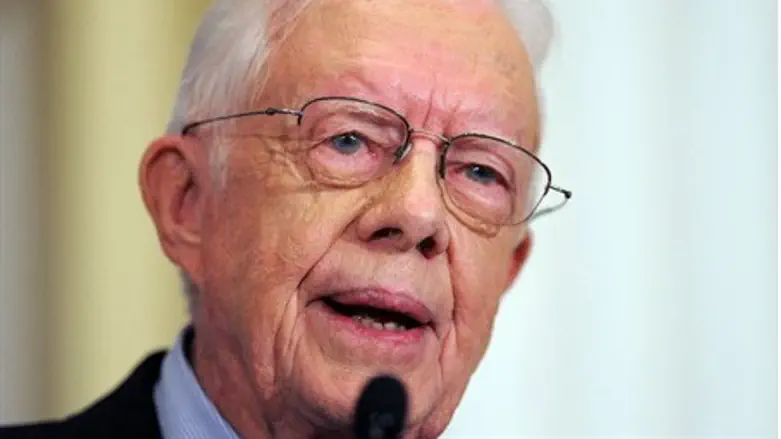 Former President Jimmy Carter
AFP/File
Former US President Jimmy Carter is reportedly pushing for the Palestinian Authority (PA) and Hamas to reconcile, against the wishes of both organizations.
According to AI Monitor, two weeks ago Carter visited PA President Mahmoud Abbas in Ramallah; during their talks, Carter encouraged Abbas to return to the Beach Refugee Camp Agreement from last year, in which the PA and Hamas agreed to combine into one unified government.
He was unable to visit Gaza due to security restrictions, but managed to communicate a similar message to Hamas leaders.
Both Hamas and the PA representatives said that they were uninterested in Carter's plan.
Abbas's political adviser, Nimer Hammad, said that the PA is uninterested in a deal unless Hamas agreed to give up its control of Gaza. Abbas reportedly requested that Carter "persuade Hamas to hold presidential and legislative elections under international supervision and guarantees, and that [Carter] should get a written consent from the movement."
Ziad al-Zaza, the deputy prime minister of Hamas, told Carter that the PA is to blame for the lack of elections. "The [PA] government should also create an adequate atmosphere for the elections by releasing detainees and [respecting] freedoms, and Abbas is preventing this through the security services," he said.
The Beach Refugee Camp Agreement was the second time the two sides attempted to join together. The first was in 2007, which lasted four months before a civil war broke out, leaving Hamas in control of Gaza and the PA in control of Judea-Samaria.
Mohammad Abbas was elected to a four-year term in 2005, and has refused to relinquish his position for the past six years. Hamas won the 2007 Palestinian general election, then forcibly silenced its political opposition, even to the point of throwing opponents off of high-rise buildings.
Hamas is listed by the US State Department as a designated terrorist organization. US law explicitly prohibits supporting terrorist organizations, as does United Nations Security Council Resolution 7158.
Carter has been a private citizen for the past 34 years. As such, he does not represent the US government, is not allowed to negotiate with foreign entities on behalf of the United States, and is subject to the same laws as every other American.