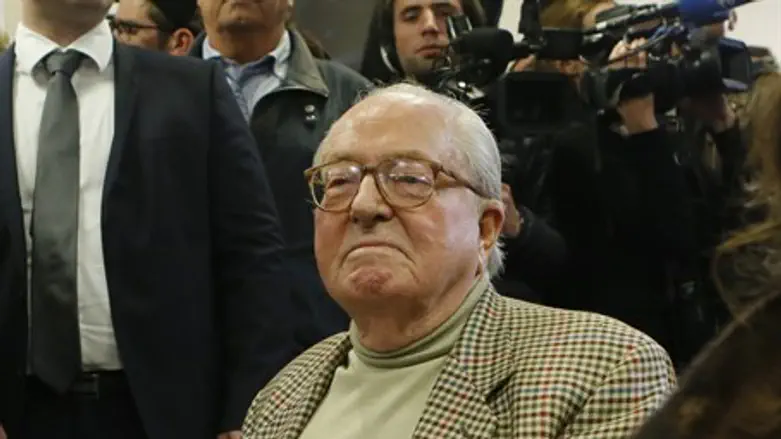 Jean-Marie Le Pen
Reuters
Jean-Marie Le Pen, founder of France's far-right National Front (FN), announced Monday he would create his own "grouping" after being suspended from the party for remarks downplaying the Holocaust, AFP reports.
The 86-year-old assured he had no plans to launch an alternative to the anti-immigrant FN, which his daughter, Marine Le Pen, has led since 2011.
"I'm not going to start another party," Le Pen told France's Radio Courtoisie. "I will create a grouping that does not compete with the FN."
The FN, which was founded by the former paratrooper in 1972, downplayed the announcement as "a non-story".
"What will it be? The association of friends of Jean-Marie Le Pen, by Jean-Marie Le Pen, for Jean-Marie Le Pen," a senior party member, who spoke on condition of anonymity, said scathingly, according to AFP adding that the FN would "rule out any form of entente" with the elder Le Pen's movement.
The elder Le Pen was suspended from the FN last week after a public showdown with his daughter over inflammatory comments he made referring to the Nazi gas chambers as a mere "detail" of history.
He also praised France's collaborationist World War II Vichy regime.
The remarks repeated comments the octogenarian European Parliament member had made in the past but this time were not tolerated by Marine Le Pen, who has worked hard to rid the FN of its overtly racist, anti-Semitic image.
The FN's executive suspended him from the party on May 5 and said it was also considering stripping him of his title of honorary FN president.
Jean-Marie Le Pen said Monday his new movement would "weigh in to restore the political line that was followed for decades" by the FN.
"I think we have to restore a real democracy in the movement," he said, according to AFP.
As for his daughter, whom he last week angrily disowned and wished for her to lose the 2017 election, Le Pen was suddenly full of praise.
"Marine Le Pen has great qualities," he said. "She is a stand-up person, who shoulders overwhelming responsibilities."