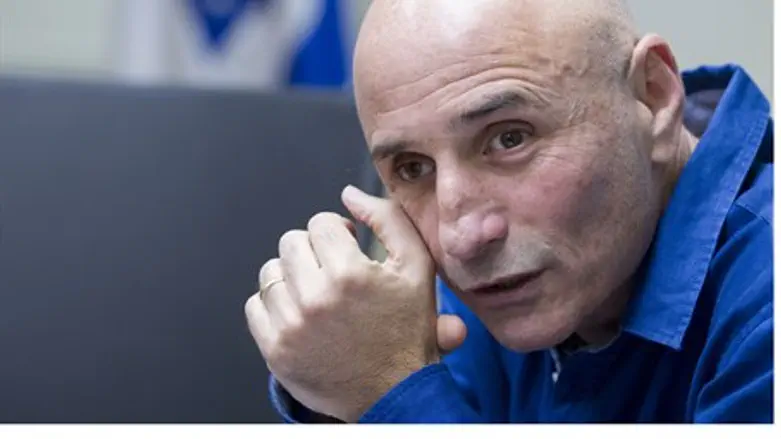 Ofer Shelah
Miriam Alster/Flash 90
MK Ofer Shelah (Yesh Atid) joined the chorus of criticism directed against Prime Minister Binyamin Netanyahu on Sunday, slamming Netanyahu for rushing to expand the government from 18 to 20 ministers in Monday's upcoming vote. 
According to Shelah, Netanyahu is "acting out of fear that someone will run away from him," he said on Channel 10's "Orly and Guy" morning show. 
"Netanyahu conducted the negotiations with talent and now he is violating the law led government has made only a year ago, this trampling of the Knesset and the law," he added. 
"Law-abiding people know that changing the Basic Law within 24 hours is to spit in the face of the Israeli public."
Shelah further accused Netanyahu of dissolving the government on purpose - despite his own party's chairman, Yair Lapid, having made the first move to that end by violating the 19th Knesset's coalition agreements - in order to reconstruct a "narrow" right-wing government. 
"Everyone sees now the reason for the dissolution of the previous government, it is clear that Netanyahu wanted to go back to what looks [like a] natural coalition with the extreme right and the haredim," he fired. "He decided with the haredim all of the terms before the election." 
On Saturday night, Lapid also slammed Prime Minister Binyamin Netanyahu, calling the decision to expand the number of ministers in the government "political corruption." 
"They tell us that this does not affect the budget, which is a blatant lie. I was finance minister and you can't sell me such nonsense," he said.
"This move will cost hundreds of millions of shekels, and that's why it is political corruption. Every additional ministry produces more jobs and all these things cost a fortune. It is fraud to tell the ministers that there is no budgetary cost to this. This is public money that should go to welfare, health and all that matters for the citizens of Israel," continued Lapid.