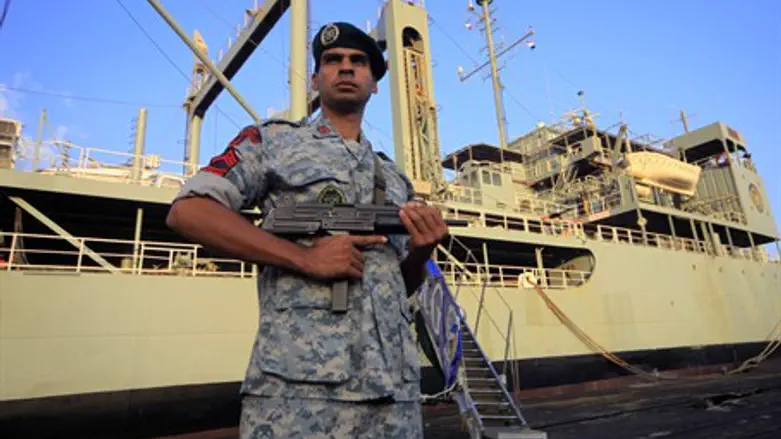 An Iranian soldier stands guard near Iranian Navy helicopter carrier (file)
Reuters
Iran has released a cargo ship it seized last week, just days after threatening to sell it if its owners refused to pay a hefty fine.
Iran's IRNA state media cited "an informed source at Iran's Ports and Maritime Organization" as saying that MV Maersk Tigris was released Thursday morning.
The seizure of the Marshall Islands-flagged ship nearly triggered a major international incident, but Iran insists the ship was commandeered to the Iranian port of Bandar Abbas due to a financial dispute between the vessel's Danish owners and an Iranian company.
According to IRNA, "Iranian authorities had reiterated there was absolutely no political or security intentions or considerations behind Maersk confiscation."
The Iranian Foreign Ministry defended its navy's actions as legal, despite the Maersk having been in an international shipping lane in the Straits of Hormuz at the time.
Iran says the ship's crew were detained only briefly, and released shortly afterwards.
It is not known whether the Maersk has paid the $10 million fine demanded by Tehran as a condition for its release.
Despite all that, many analysts say the increasingly brazen actions of the Iranian navy are a sign of an emboldened Iran attempting to exert its control over the region.
On Tuesday, an Iranian fleet claimed to have forced a US warship and several reconnaissance aircraft to turn around during a standoff in the Gulf of Aden, off the coast of Yemen, where Iran has been backing Houthi rebels.