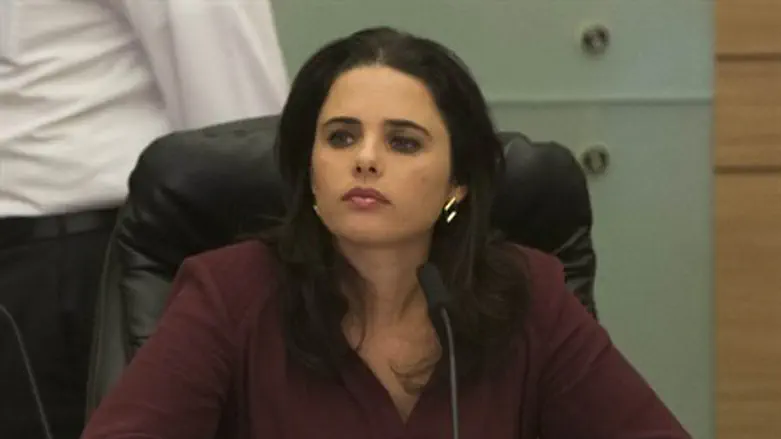 Ayelet Shaked
Yonatan Sindel/Flash 90
After negotiations that extended into the wee hours of the night, Likud has agreed to appoint Jewish Home's Ayelet Shaked as the new Justice Minister.
Shalom Shlomo, a confidant of Bennett, met Tuesday evening with Attorney David Shimron, who represents Likud in coalition talks. The sides still have to work out disagreements about the areas of authority of ministers and about the membership of an additional Jewish Home minister in the Security and Diplomacy Cabinet.
Shaked's appointment is considered a major political coup and could potentially pave the way for an historic change in Israeli politics. The judicial system in Israel is considered to be the strongest governmental bastion of the leftist founding elites, and its "activism" has hampered attempts by the Right to effectively rule Israel for decades. 
Shaked has spearheaded the Right's attempts to curb judicial activism, and the Left has been expressing its distress in recent days over the possibility she will become Justice Minister. 
Not under Netanyahu's control
If Jewish Home had not received the portfolio, it was expected to go to Likud. Likud, too, has MKs who have a similar approach to Shaked's as regards the judicial system. First among these are MKs Yariv Levin and Ze'ev Elkin, who would also be viewed with trepidation by the leftist elites, if appointed.
However, Likud also contains "pro-court" elements, the most notable of whom is Benny Begin. Prime Minister Netanyahu placed Begin in Likud's list as a personal appointment, in a move that was seen as reflecting his aversion to a head-on confrontation with the justice system. Shaked does not directly answer to Netanyahu politically and would be much harder for him to control than a Likud man.
After Yisrael Beytenu Chairman Avigdor Liberman bolted the coalition Monday, Likud became dependent on the Jewish Home's 8 MKs for achieving a 61-seat majority. Bennett seized the opportunity and announced that if Shaked is not appointed Justice Minister, Jewish Home will also refuse to join the government. If this happens, Binyamin Netanyahu will not be able to present President Reuven Rivlin with a majority coalition.
The deadline by which Netanyahu must tell the President that he has a 61-seat coalition is midnight tonight (between Wednesday and Thursday). If he does not do so, the President may turn to MK Yitzhak Herzog (Labor) to form a coalition. 
After Bennett announced his ultimatum regarding Shaked, Yariv Oppenheimer, head of the Peace Now organization, tweeted, "Shaked as Justice Minister is like placing an idol in the Temple. No less."
MK Nachman Shai (Labor) also condemned the possible move, saying, "the demand to give Ayelet Shaked the Justice portfolio is like giving the Fire and Rescue Services to a pyromaniac."