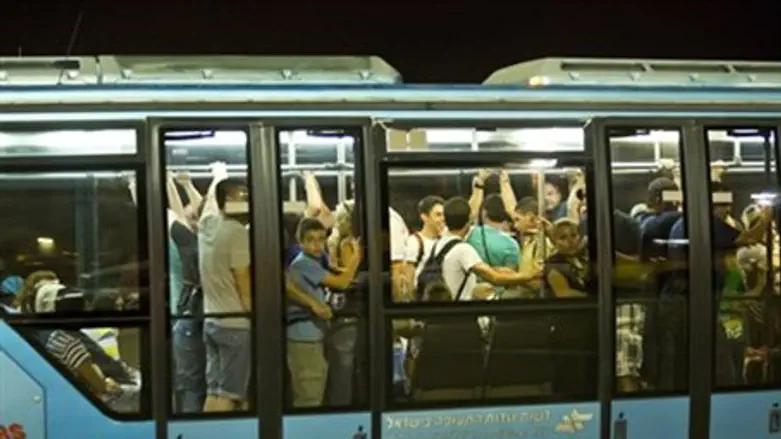 Illustrative
Flash 90
Jerusalem will operate its first buses on Shabbat on Friday night, with a private "Shabbos" line beginning to run at 8:00 pm. 
The line is a private initiative from Jerusalemites angered over Transportation Minister Yisrael Katz (Likud)'s refusal to allow public transportation on Shabbat. 
110,000 shekels ($28,526) for the project has already been raised on crowdfunding site HeadStart. 
"We studied the bill and we were looking for a middle ground between the Transport Ministry's refusal to grant licenses to operate public transportation on Shabbat and the needs of many Jerusalemites," Hovev Yannai, a founder of the project, told Yediot Aharonot. 
Bus transport is run by co-op, with a membership fee of 50 shekels ($17) per person. At least 500 people have already signed up. 
The first line will operate on Friday evening, and span from Pisgat Ze'ev to the city center and back, stopping as well in Talpiot, Beit Hakerem, and the French Hill neighborhoods. Buses will run once per hours from nightfall until 2:00 am. 
The buses are rented from private companies, the founders added - and, to avoid breaking Jewish law, the drivers will be non-Jews. 
The fight over public transport on Shabbat continued to be a primary issue during the 20th Knesset elections campaign, with Labor, Kulanu, and Meretz heavily supporting introducing the option for stranded city-dwellers. 
Sharp exchanges over the issue eventually ensued between Katz and Meretz MK Tamar Zandberg, who then countered with a bill to force MKs not to use their private vehicles on Shabbat in retaliation.