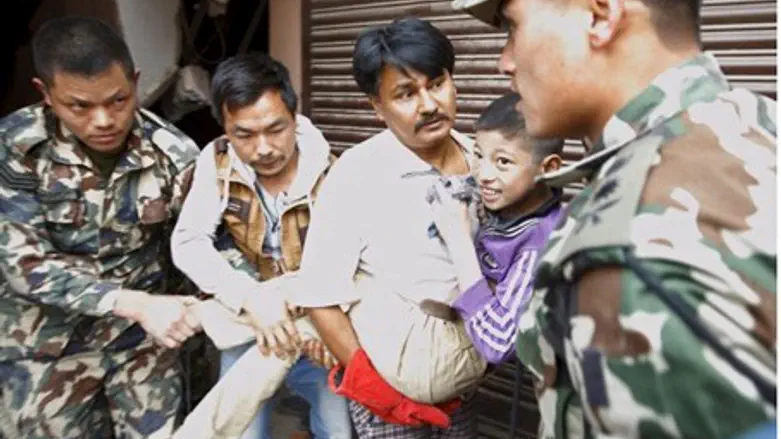 Desperate scenes as authorities accused of failures
Reuters
After five days of trekking through destruction in the Nepalese countryside, three Israelis managed to reach the Chabad House in Kathmandu – where they had their first real meal, and rest, in nearly a week of wandering. 
Speaking to the NRG news site Thursday, the three described a trail of tears and suffering in the aftermath of a devastating earthquake five days ago, as they made their way from the popular Gosainkund (Frozen Lakes) tourist area of the country.
Gosainkund is only forty kilometers from Katmandu, and can usually be driven in an hour – but because of debris on the road and the need to take shelter from aftershocks, it took the group nearly five days to reach their destination.
Speaking to the site, Amit, one of the trekkers, described the moment the earthquake struck.
"We were in an area where there were a lot of rocks, and when the quake took place a landslide began. We didn't understand what was going on and we hid behind a big rock. When the quake was over, we followed the trail, and could see in the distance that all the surrounding villages had been badly damaged, and that the residents had fled. One of them helped us out and brought us to a tent, where we remained for three nights until we felt it was safe to leave."
As they made their way to Kathmandu, the three witnessed terrible destruction, they told the site. "We went through a totally destroyed path and we were very scared. We didn't see dead bodies, but it appeared that all the homes in the villages we walked through were very badly damaged, and that their residents had fled," he added.
Hundreds of Israelis in Nepal have been flocking to the Chabad House in Kathmandu, the one place they feel safe in the wake of the destruction around them. There, they have found shelter and food.
So far, some 5,500 people have been declared dead – and miraculously, all but one of the hundreds of Israelis who were either hiking in the country's mountains or in the devastated capital of Nepal are accounted for.
Several hundred have already returned to Israel, while others wait for flights out of the country, most of them at the Chabad center.