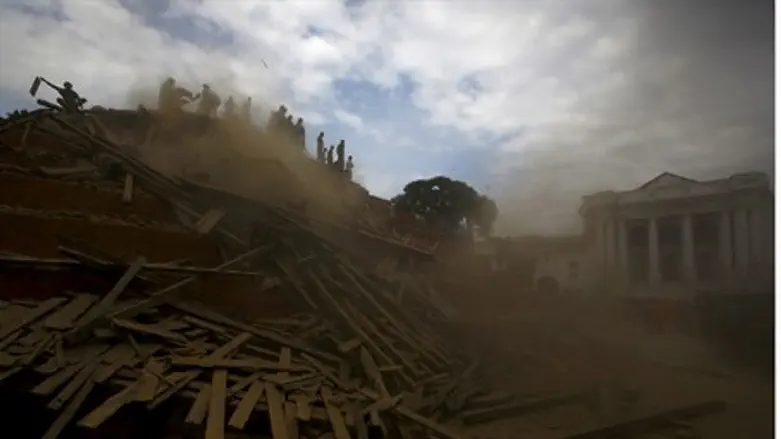 Earthquake in Nepal
Reuters
Israelis in the area of earthquake-ravaged Nepal have been flocking to the Chabad House in Kathmandu, the one place they feel safe in the wake of the destruction around them. The center has done its best to provide people with their basic needs – but is quickly running out of money, Chabad officials told NRG Wednesday.
So far, some 5,000 people have been declared dead – and miraculously, as of Wednesday, all but one of the hundreds of Israelis who were either hiking in the country's mountains or in the devastated capital of Nepal are accounted for. Several hundred have already returned to Israel, while others wait for flights out of the country – most of them at the Chabad center. The Center has also distributed a large amount of aid to locals.
But that assistance has come at a high cost; basic commodities are in short supply in Nepal, and the price of everything has skyrocketed. The supplies in the Chabad House are running very low, as is the money to buy replacement items. According to David Slavin, who heads a group that raises money for Chabad Houses, the site's directors, Chani and Hezki Lifshitz, have laid out large sums of money for supplies or to help Israelis buy items or get rides to the airport.
Chabad emissaries around the world have begun a major fund-raising drive to collect money for the Nepal Chabad House. The site survives on donations, and the fund-raising organization is usually able to take care of its day to day needs; but in the event of an emergency like this, said Slavin, far more money is needed.
"Until now, we've taken care of a number of injured on the couches of the Chabad House," Chani Lifschitz wrote on her Facebook page. "The main work now is to gather all the names of the people - the people who are in Kathmandu, the people who are in the mountains. We hope to report only good news."