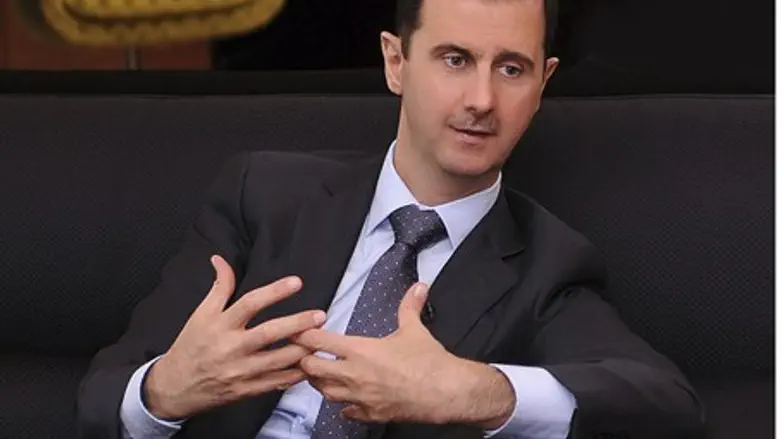 Bashar al-Assad
Reuters
Experts and Syrian officials revealed why exactly Iran, which is financially saddled by international sanctions, continues to spend fortunes and deploy thousands of troops to prop up Syrian President Bashar al-Assad's regime, even as the fight turns against him.
A detailed report in Christian Science Monitor revealed that the UN's Syria envoy Staffan de Mistura disclosed to a private meeting in Washington DC recently that Iran funnels no less than $35 billion annually to its Syrian ally, according to a source who was present at the meeting.
Despite the massive aid, Assad this past month has suffered major losses, putting him on the brink of losing the bloody civil war that has stretched over four years and cost over 220,000 lives, and leading Syria's Defense Minister General Fahd al-Freij to head for a visit to Iran on Tuesday.
Explaining why Iran is willing to invest such massive resources even while staggering under sanctions, Hezbollah expert and director at the Washington-based Middle East Institute Randa Slim told the paper how Iran's larger regional aspirations fuel the move.
"Iran has always considered Syria its gateway to the Arab region. I don't think that assessment has changed," said Slim.
The paper described how Iran continues to prop up Assad even as he loses his grip of the country because its strategic interests are not dependent on Assad's absolute control over all of Syria.
Rather, Iran only needs access to the corridor between Damascus and Tartous on the Mediterranean coast which passes along the Lebanese border - via that corridor, it can continue smuggling weapons to its Shi'ite terror proxy Hezbollah in Lebanon and maintain its regional power.
"Iran is not committed to the person of Bashar al-Assad...they're committed to preserving their interests in Syria," Karim Sadjadpour, senior associate in the Middle East Program of the Carnegie Endowment for International Peace, told Christian Science Monitor.
Paying in troops as well
Massive funds aren't the only way Iran is propping up the Syrian regime - despite Assad's recent denial that Iranian soldiers are fighting in Syria, experts report Iran has thousands of troops fighting in the country.
It also has sent Hezbollah terrorists to fight, along with Shi'i'te paramilitary forces from Iraq and Afghanistan, and likewise established the National Defense Force militia with 80,000 fighters, a force mostly of the Alawite splinter sect of Shi'ite Islam to which Assad belongs.
But even with the foreign troops and militia, a former Syrian official who spoke to the paper on condition of anonymity said, "there is not a critical mass available (for Assad) to achieve victory."
"To prevail, 200,000 to 300,000 mothers need to be convinced to send their sons to fight. But why would a Sunni mother and father send their son to die for Bashar al-Assad?," he said, noting the religious divisions of Shi'i'te-Sunni animosity underpinning the conflict.
The official noted that Iran has put all of its eggs in one basket with Assad, saying "outside the regime, Iran has no contacts in Syria. Syrian businessmen trade with other Arab countries."
He noted that Iran's billions of dollars in aid is ironically "financing Syrian imports from Saudi Arabia and other Gulf states, not from Iran."