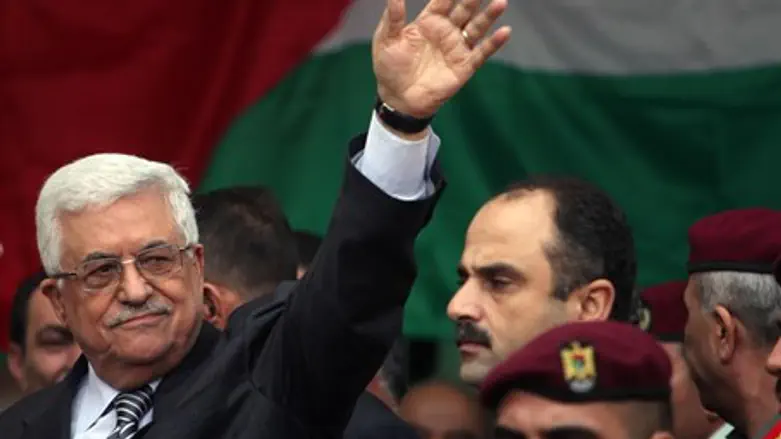 Mahmoud Abbas
Issam Rimawi/Flash 90
In the first volley of a spate of bomb attacks in Gaza over the weekend, an explosive was detonated late last Friday in western Gaza City right by Palestinian Authority (PA) Chairman Mahmoud Abbas's former home.
Abbas's Gaza home was turned into Palestinian Cabinet headquarters after the unity deal between Hamas and the PA last April which torpedoed peace talks, reports the Palestinian Arab Ma'an News Agency.
It remains unclear which party was responsible for the blast against Abbas's former home, with either rival factions or disgruntled residents among the possible suspects.
Just a day later on late Saturday, two more explosions rocked Gaza, with one going off right next to UNRWA offices - around three meters from the door according to UNRWA workers.
The blast took place across from the Sousi Biulding on al-Sanaa Street according to the news agency.
A second blast also on late Saturday struck the entrance of the Khalidi Building, located opposite the Islamic University and next to the "Attorney-General's office," according to the report.
In a separate security incident, Hamas's Al-Qassam Brigades "military wing" reported on Saturday that one of its terrorists was killed while on duty.
According to the Hamas statement, the terrorist was Nafeth Said al-Mughni from Rafah in southern Gaza.
Hamas claimed he died after being hit by a bullet "in an accident," but did not provide any further details regarding the shooting.
There has been a wave of internal violence between arch-rivals Hamas and Abbas's Fatah faction, unity deal notwithstanding, as Fatah and Hamas officials in Gaza, Judea and Samaria have long been targeted in mysterious assassination attempts.
Those attempts included a spate of shootings in Gaza in February that threatened to slide the region into open internal warfare,
Islamic State (ISIS) has also been getting involved, with its branches in the regions building a strong power base and threatening to depose Hamas and the PA.