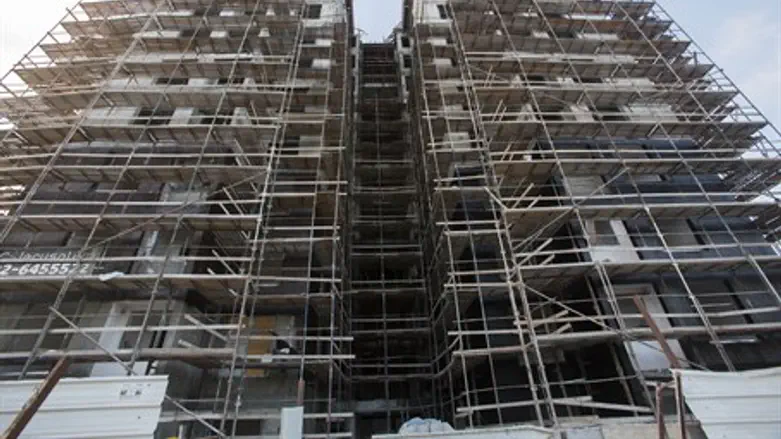 Construction site (illustration)
Flash 90
Environmental groups this week filed petitions against construction of a new city, to be located in the hills between Beit Shemesh and Jerusalem. The Israel Lands Authority in October approved the construction plan for the new city, tentatively called "Bat Harim" (Daughter of the Mountains). Green groups, claiming that the city will ruin the environment in the area west of Jerusalem, are vowing to stop the plan.
In a letter to ILA attorneys, the Society for the Protection of Nature said that the project had been proposed in the past but had been rejected each time, because of the damage it would cause the environment. As evidence, the group attached a report by the National Planning Board in 2007 rejecting the plan, which said that "based on the information presented to us, including the environmental, social, economic, and demographic data available, we find it preferable to develop the western edges of Jerusalem over the adoption of this plan."
The ILA is set to discuss the plan next Sunday, and in advance of the meeting, the Environmental Ministry has supplied its opinion as well, asking that the plan be cancelled. Construction of the city, the Ministry said, "isolated as it will be from existing facilities, will require a huge investment in infrastructure and foster great damage to open areas. This is the opposite of the recent policies of Israeli governments." Far better, the Ministry said, would be to gradually expand Jerusalem to the west, taking advantage of existing infrastructure.
According to the plan, some 25,000 new homes are to be built in the area east of Beit Shemesh and north of Tzur Hadassah, about 12 kilometers southwest of Jerusalem. Additional plans will see the expansion of the new city, which will eventually cover some 14,000 dunams. A new road to Ein Kerem would be built, which will connect to the new highway system being built along Route 1 into the city. Currently, most of the area is allocated to national forests or is undeveloped.
According to many experts, one of the main reasons for the high cost of housing in Israel is the lack of construction.