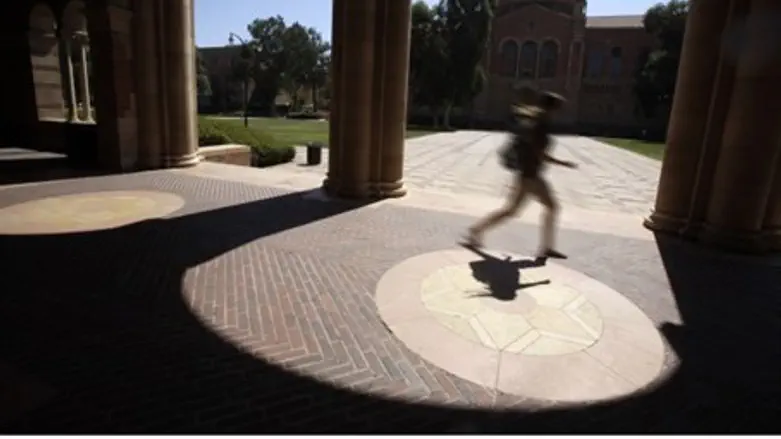 UCLA campus (illustration)
Reuters
In what appears to be becoming a trend, a student coalition at Stanford University in California allegedly asked a Jewish candidate in the student government election whether her Jewish identity would impact her vote on divesting from Israel.
Candidate Molly Horwitz, a junior from Milwaukee, told the New York Times on Tuesday that she had sought endorsement from the Students of Color Coalition. Horwitz was adopted from Paraguay, and is active in Jewish and Latino circles.
But she said she was shocked and horrified by a question asked in the interview with the student coalition.
The eight representatives interviewing her asked about general issues such as student mental health services, before throwing out the question: "given your Jewish identity, how would you vote on divestment?"
"I was really taken aback by the question, and it took me a minute to process it, so I asked for clarification to make sure I knew what they were really asking," said Horwitz. "They said they saw in my application that I had a strong Jewish identity, and how would that impact my decision?"
She says she answered by saying that while she supports the process of the student senate in voting on the divestment issue, she opposes divestment and considered the February decision to divest to be disappointing.
"There was an awkward silence, and the interview ended a minute later," said Horwitz, who didn't get their endorsement ahead of the elections, which start Thursday.
One of the interviewers, the campus's NAACP chapter president Tianay Pulphus, claimed the charge was "baseless" and that no such question was asked.
Stanford officials are currently investigating the incident after Horwitz filed a complaint. They are also investigating charges that the Students of Color Coalition asked endorsed candidates to sign a contract vowing not to affiliate with the Jewish groups on campus, a charge the group likewise denies.
A Californian tradition?
Stanford isn't the first Californian university in which Jewish candidates are singled out over their identity.
In February, the student board at the University of California, Los Angeles (UCLA) interrogated a Jewish student running for the campus judicial committee, asking if her identity would influence her decision-making.
That incident was caught on film and in official minutes, which unfortunately was not the case in the Stanford incident.
Vlad Khaykin, associate director of the Central Pacific Region of the Anti-Defamation League, spoke about the injustice of the questioning.
"Having aspersions cast on their ability to reflect the interest of the student body on the basis that they are Jewish is obviously very troubling to us," Khaykin said. "The university needs to make it clear to students and student groups that singling out identity and questioning on those kind of issues is discriminatory."
The New York Times also spoke with Miriam Pollock, a friend and campaign manager of Horwitz, who said Tuesday that before gathering signatures to launch her campaign, they hid all posts on her Facebook page showing support for Israel.
"We did it not because she isn't proud - she is - but the campus climate has been pretty hostile, and it would not be politically expedient to take a public stance," said Pollock.
"She didn't want that to be a main facet of her platform," she added. "Of course she was going to be honest if she was asked about her stance on divestment.
Regarding Stanford's February vote in the student senate to divest from companies doing business in Judea and Samaria as a means to attack Israel, the board of trustees on Tuesday said the decision is divisive and that it will not take up the matter.