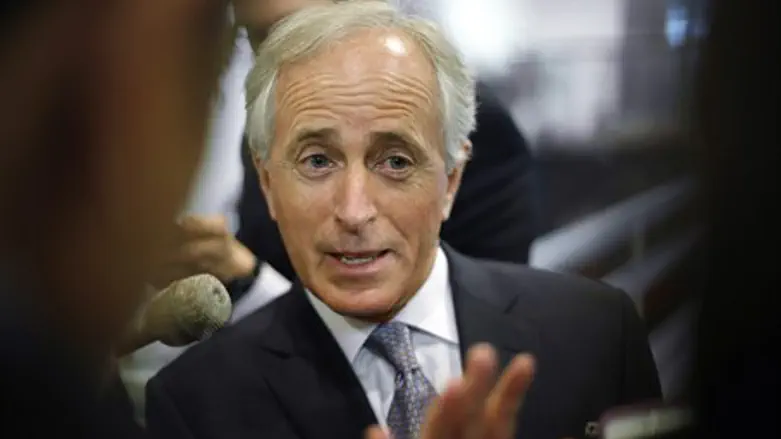 Senate Foreign Relations Committee Chairman Bob Corker
Reuters
A deal between Republican and Democratic senators was reached on Tuesday to support a bill that would let Congress have the final say on the Iran nuclear deal, according to Senator Bob Corker (R-TN) who is one of the key authors of the bill.
"We have reached a bipartisan agreement that keeps the congressional review process absolutely intact, full of integrity," Corker, who is chairman of the Senate Foreign Relations Committee, told MSNBC in an interview.
The statement comes ahead of a vote on the Corker-Menendez bill in the Foreign Relations Committee later on Tuesday, which could see it moved on to the Senate floor, reports Washington Post.
Corker is hoping to gain wide Democratic backing for the bill, and aims for 67 senators in favor, which would make the bill impervious to US President Barack Obama's veto that he has threatened to use.
Before Corker announced the agreement, Senator Christopher Coons (D-DE), who is also on the Committee, praised Corker's efforts but wasn't willing to go as far as announcing a deal had been reached.
The Democrats have apparently agreed to the basic outline of the bill, which would establish a review period of the nuclear deal during which time the sanctions would stay in effect. It would likewise give Congress the ability to approve or disapprove of the deal.
If Congress approves the deal, the bill would also give Congress an ongoing role in monitoring that Iran continues to meet its agreements and honor the deal.
What about Iran's terrorism?
But there are Republican fears that in order to reach a veto-proof majority with large Democratic support, several sections of the bill will be removed or reworded, risking having it watered down.
A key point of contention appears to be a statement requiring Obama to verify that "Iran has not directly supported or carried out an act of terrorism against the United States or a United States person anywhere in the world" every 90 days after the deal is sealed.
Democrats appear to be hesitant about the clause, apparently considering it to render the deal impossible or else be unconnected to the content of the deal, which focuses on the Islamic regime's nuclear program and ignores its terrorism, as well as its intercontinental ballistic missile (ICBM) program.
White House press secretary Josh Earnest spoke about the terror caveat on Monday, saying that negotiators "do not anticipate in the context of this agreement being able to resolve all of our concerns about Iran's terror activities."
"In fact, that's the reason that we're pursuing this agreement. To ensure that Iran can't obtain a nuclear weapon and then share either that nuclear weapon or some of the technology or those materials with a terrorist organization," claimed Earnest.
And yet Obama himself admitted last week that the deal will allow Iran to achieve a nuclear weapon - he assessed that by 2028 it will have a "zero" breakout time in producing nuclear arms. Iran has said it will use advanced centrifuges as soon as a deal is reached, dramatically reducing that timeline.
On the other hand, some Republicans are seeking to make the bill stricter, with Senator Marco Rubio (R-FL), who announced his presidential campaign on Monday, filing an amendment requiring Iran to formally recognize Israel's right to exist.
The demand echoes statements by Prime Minister Binyamin Netanyahu, which were quickly rejected by Obama.