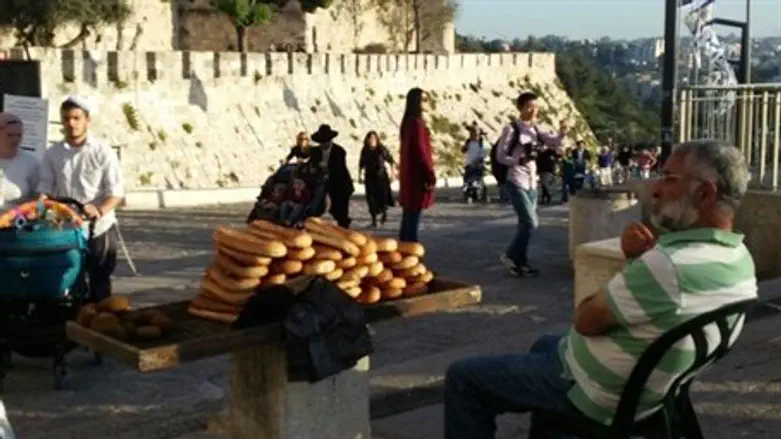 Arab vendor selling chametz at Yafo Gate
Arieh King
There is a law on the books to prevent the public sale of chametz (leavened breads) during the intermediary days of Pesach (Passover) in Jewish majority public spaces in Jerusalem, but still Arab sellers set up their carts with bread goods this year until inspectors seized the chametz - why is this situation still occurring in Israel's capital?
Jerusalem Councilman Arieh King told Arutz Sheva that two weeks ago in a city council debate, he tried to raise a proposal to have early enforcement, stationing inspectors to block Arab vendors in advance from selling chametz at the major gates to the Old City in Jerusalem, where thousands of Jews pass on their way to the Kotel (Western Well) during the holiday.
As a preface to his words, King pointed out that those feeling a Muslim should be allowed to sell pitas and pretzels on Pesach because he is a Muslim are mistaken, given that it wouldn't be accepted if someone sold pork at the entrance to the Muslim quarter, offending Islamic and Jewish sensibilities. 
"The law is very simple. It's a law that defines that every place that has a majority of traffic that is Jewish or a Jewish neighborhood, it is forbidden to sell chametz in public spaces there," said King.
The councilman stated, "so that we don't reach a situation in which the enforcement creates headlines, I asked the mayor (Nir Barkat) for us to avoid images of chametz being seized, by placing inspectors who will prevent chametz from being there in the first place."
However, King arrived 15 minutes late to the council debate, and when he asked Barkat for permission to raise the proposal later in the meeting, "the mayor refused to allow me to raise the proposal for debate, and as a result chametz inspectors were not placed in (the Old City's) Yafo Gate, Dung Gate and Zion Gate."
Chametz at the main entrance to the Old City
"Unsurprisingly last Shabbat and yesterday (Monday)...Arabs arrived and sold their well-known pretzels and their pitas right at the main entrance to the Old City," reported King.
"I, together with other council members from the haredi sector pressured the municipality, and inspectors came and seized the chametz, but unfortunately this incident repeats itself," he added. "I'm afraid that soon leftists will turn this matter into a sort of provocation that repeats itself every year."
King, who is also founder and chairman of the Israel Land Fund (ILF), emphasized that his efforts focused on the Old City gates where mass numbers of Jews pass through on their way to the Kotel, with others unfortunately not being safe for Jewish passage in many instances. He notes the issue is one of basic respect for Jewish sensibilities.
"There must be a feeling of holiness in this city, a feeling of a Jewish city, without being embarrassed," he said. "We tried to do that in the most gentle manner, and the mayor prevented that. Yesterday there were enforcement activities, and I think they are completely unnecessary. I think a little explanation would cut down the phenomenon or even cancel it."
A yearly provocation?
King is in contact with the chairperson of the Old City Merchants Council, who is a Muslim, and who clarified that Arab merchants also prefer that the relations with Jews remain calm so that they continue to purchase from their stands and stores.
"He told me 'why do I need to harm them (Jews) with the small matter of selling another hundred or two hundred pretzels, when Jews won't buy anyway?,'" related King. "He actually gets it."
But according to King, there is a reason why some Arab vendors choose to flaunt the law.
He stated that "the one who places the stand there doesn't just do it for his livelihood. I know the man. He's the same guy who last year had chametz seized. He put the stall on the stairs from the Mamila area to the Old City. He distanced (the stall) from the Old City and I think he did it just to anger people."
Speaking about the city council's ability to deal with these issues, King pointed out that a religious coalition could have been formed to advance matters of Shabbat, chametz, the Torah world and other religious issues - but such a coalition has not succeeded in unifying due to Barkat's "divide and conquer" efforts.
"I hope that with time we will succeed in unifying, the Ashkenazic haredi public and the Sephardic, also the knitted kippot (i.e. national religious - ed.), to defend these things we all agree must not be harmed," he concluded.