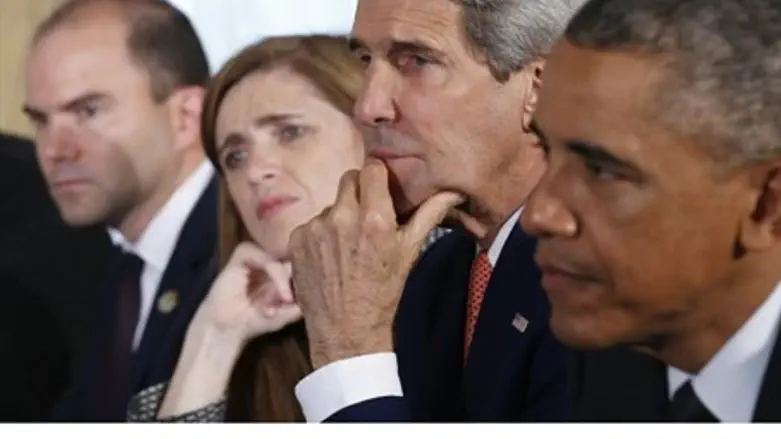 Ben Rhodes at left, Power, Kerry, Obama.
Reuters
A day after US President Barack Obama attempted to soothe Israel's Iran fears, adviser Ben Rhodes told the trio of Israeli news stations that Iran would not be able to gain access to a nuclear bomb. 
Rhodes, the deputy national security adviser for strategic communication, insisted that there "significant limitations" on Tehran's nuclear program, which would prevent them producing nuclear weaponry. 
While the United States does not necessarily trust Iran, Rhodes continued, the deal contains "strict supervision," which will ensure the Islamist regime can't manufacture a nuclear bomb. 
Even ten or fifteen years from now, when a final deal is set to expire, Iran will still be unable to produce nuclear weapons, Rhodes added, because of advanced inspections and the conditions of the agreement. 
Rhodes also addressed the issue of sanctions, a step he stressed Iran would have to "earn."
According to Rhodes, American sanctions will be lifted following an executive order from Obama. This, however, could quickly be overturned in the event Iran breaches any aspect of the deal. 
Meanwhile, the six Security Council resolutions under which sanctions were imposed until now, will be replaced with a new overarching resolution to define which sanctions shall remain in place. 
Speculating on the possibility Iran will breach the agreement, Rhodes stressed that Obama would consider all potential options in response - including military action. 
"If Iran violates all options are on the table. The president, this president or the next president, will have all options on the table including military one. If there is a violation, all options will be considered."
Rhodes concluded his Channel Two interview with a discussion of the tense relationship between the Obama administration and Prime Minister Binyamin Netanyahu. 
There are differences of opinion between them, Rhodes agreed, but said he would not be surprised to see a meeting between the two leaders during an official visit by Netanyahu to Washington once an Israeli government has been established.