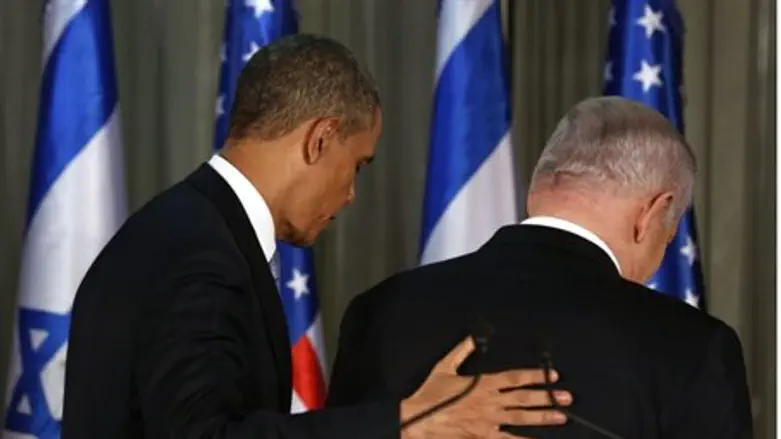 Obama, Netanyahu (file)
Reuters
US President Barack Obama has said that a weakened Israel would be a "fundamental failure of my presidency," claiming solidarity with America's long-time ally despite recent differences over the Iran nuclear deal.
Obama admitted Israel has reason to be concerned about its foe, Iran, but he defended the framework agreement on Iran's nuclear program that negotiators drew up last week.
Obama made the comments to The New York Times in a 45-minute video interview on Saturday that was posted on Sunday, reports AFP.
"I would consider it a failure on my part, a fundamental failure of my presidency, if on my watch or as a consequence of work that I've done, Israel was rendered more vulnerable," Obama said.
He said he would consider it "not just a strategic failure, I think that would a moral failure," adding that no disagreements between Israel and the United States can break their bond.
Prime Minister Binyamin Netanyahu has strongly denounced the agreement which America and world powers sealed with Tehran as a bad deal endangering Israel's survival, pointing out that it will leave Iran with all of its nuclear facilities intact and will allow it to continue enriching uranium at a limited rate for ten years, at which point those limitations are to be lifted.
The two leaders have also clashed over the peace process, with Netanyahu saying a Palestinian state will not be created in his term - a statement he quickly distanced from, while the White House has been pressing to divide Israel in the two-state solution paradigm.
"Even in the midst of the disagreements that I have had with Prime Minister Netanyahu both on Iran as well as on the Palestinian issue, I have been consistent saying that our defense of Israel is unshakable," Obama claimed.
Regarding defense, during the counter-terror operation against Hamas in Gaza last summer, tensions between Obama and Netanyahu were seen at a high as Obama blocked a routine transfer of Hellfire missiles and ordered greater scrutiny on future transfers.
The US president also defended the Iran nuclear deal, which paves the way for Tehran to continue enriching uranium at limited amounts in exchange for relief from punishing economic sanctions that brought it to the negotiating table.
"There is no formula, there is no option, to prevent Iran from getting a new weapon that will be more effective than the diplomatic initiative and framework that we put forward, and that's demonstrable," he told the newspaper.
But Netanyahu has pressed for America to ramp up its sanctions against Iran instead, to force it into accepting a better deal. Israel has pointed out that of the 17 states with peaceful nuclear programs, none of them enrich uranium, a key component in building a nuclear weapon.
Obama said Israel was "right to be concerned" about Iran, and sent a message to enemies of Israel.
"What we will be doing as we enter into this deal is sending a very clear message to the Iranians and to the entire region that if anyone messes with Israel, America will be there," he said.
On the Iranian negotiations, Obama said that Iran's supreme leader Ayatollah Ali Khamenei is "a pretty tough read" and "deeply suspicious  of the West."
But Obama added: "He does realize that the sanctions regime we put together was weakening Iran over the long term, and that if in fact he wanted to see Iran enter into the community of nations, there would have to be changes."