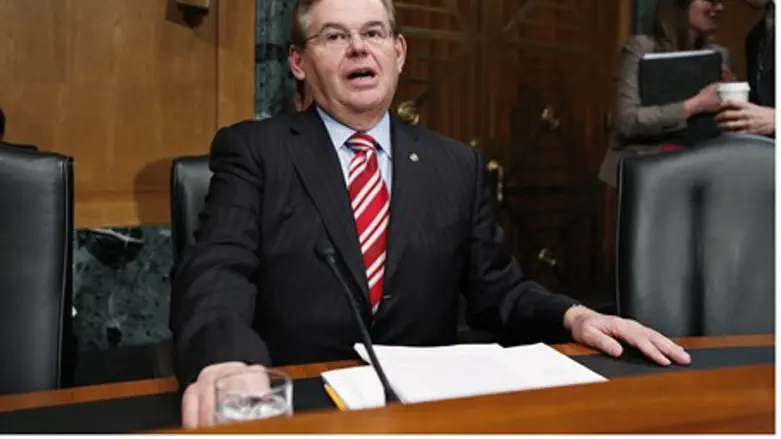 U.S. Senator Robert Menendez
Reuters
New Jersey Senator Robert Menendez stepped aside as the ranking Democrat on the Senate Foreign Relations Committee after being indicted on Wednesday of corruption charges. 
And his resignation could stymie any Senate action on a deal President Barack Obama's negotiators make with Iran, analysts say.
Menendez is one of a number of Democratic senators who have stated explicitly that they would reject a deal with Iran if they were not convinced it was strong enough to keep nuclear weapons out of Iran's hands.
On Sunday, Menendez said in a statement that the negotiations weren't looking good. "My fear is that we are no longer guided by the principle that 'no deal is better than a bad deal,' but instead we are negotiating 'any deal for a deal's sake.'"
"If the best deal Iran will give us does not achieve this goal, it is not a good deal for the United States or its partners. A good deal won't leave Iran as a nuclear threshold state."
Menendez co-authored with Republican Tennessee Senator Bob Corker a bill that would impose harsher sanctions on Iran if the talks this week in Lausanne between Iran and Western powers failed to yield an agreement he considered secure.
But with Menendez resigning from the Committee, his senior slot now belongs to Senator Barbara Boxer (D-CA), who sides with Obama on the need for an Iran deal, and opposes new sanctions. With Boxer in an influential position on the Committee, argues The Hill, which keeps an eye on Washington politics, support for new sanctions could fade, as Boxer and Obama pressure other Democratic members of the Committee.
Speaking to reporters Wednesday, Corker said that he did not anticipate any issues with the sanctions legislation.