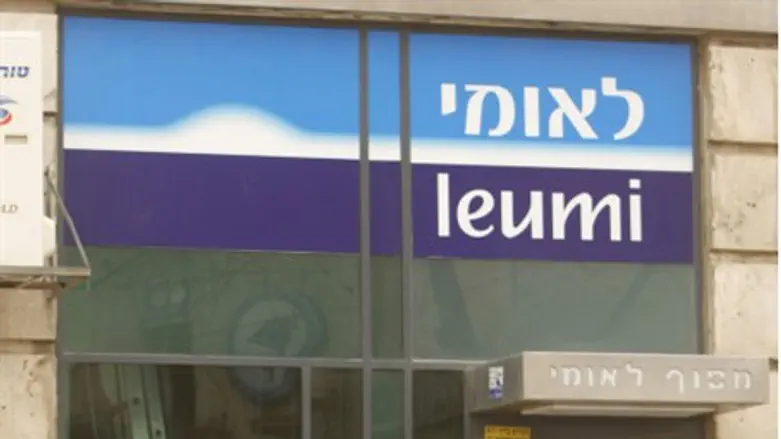 Bank Leumi
Flash 90
Among the things Moshe Kahlon and other MKs who claim to be socially conscious plan to do is lower the cost of banking in Israel, a country where banking fees take a significant chunk out of the monthly paycheck of residents. Adding fuel to the fire, a report in business daily Globes Wednesday listed just how much bankers earn – and concluded that between them, the nine best paid bankers earned NIS 52.2 million ($13 million) in 2014.
The report was based on annual reports issued by the banks, which are all publicly traded companies. The report reflects not only salaries, but also benefits, pensions, and bonus payments that top officers of each of Israel's banks receive.
In Bank Leumi, the ten best-paid executives earned NIS 41.1 million ($10.5 million), while bankers at Bank Hapoalim did better, with the top nine executives earning NIS 52.25 million. Far "poorer" were executives at Israel Discount Bank, where the top nine earners made NIS 26.1 million ($5.2 million) altogether.
During the campaign, Kahlon, as well as Prime Minister Binyamin Netanyahu, Economy Minister Naftali Bennett, former Finance Minister Yair Lapid, and many other politicians all pledged to do something about the high cost of banking. Analysts have said that lowering the price of banking will not be as easy as lowering the cost of cellphone service, an accomplishment Kahlon has pointed to as a model for lowering banking costs, because the banking industry is much larger and more sensitive than the cellphone industry.