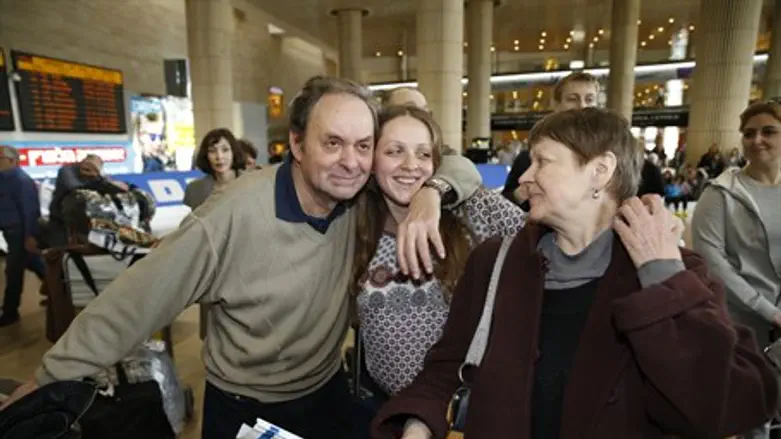 Ukrainian Jewish refugees arrive in Israel
Bazz Ratner
The Ukrainians are coming, in droves. Thanks to the country's brutal civil war, thousands of Jews are fleeing the country and many of them are heading toward Jerusalem. The Jewish Agency (JA) has been on the ground for the past year, increasing staff and responding to emergencies.
Since the fall of the Soviet Union, Jewish organizations have spared little expense in reaching out to a community culturally and religiously devastated by Soviet laws. That impact is evident when contrasting the Ukrainian Jewish Aliyah with the French one, says Avi Mayer, Spokesman to the International Media for the Jewish Agency.
"We often find that people try to compare their situation with French Jews," says Mayer. "There are significant differences between them. With French Aliyah, they are often connected to Israel, say by family here and or having visited. French Jews are more traditional, more family-oriented and more religious. They tend to have family members here who came in the 1960s (when Algerian Jews fled to France, many came to Israel at the same time)."
Clearly France is also a source of concern, but the Ukrainian Jews' "starting point is very different," says Mayer.
"Ukrainian Jews are only now discovering connections to Jewish life. The links are more tenuous. For the most part, familiarity with Israel is rather different."
The number of Jews coming from Ukraine to Israel is growing in the same way the numbers are growing out of France. 5,840 Jews made aliyah last year, more than doubling the 2,020 from the previous year. In just the first three months of 2015 there have been 1,400 new arrivals, a 350% increase on the first three months of 2014.
"We're there to provide counseling on housing, employment, education rights while they are still in Ukraine," says Mayer, who points out the Jewish Agency is playing an intimate role for Jews on the ground. "We've had hundreds of refugees go to the refugee center outside Dnepropetrovsk, where we have been able to help facilitate their move. Teaching Hebrew starts while they are there as well." 
Mayer points out other organizations have been critical to the effort, as well.
"A number of Jewish organizations working there are also doing wonderful work, like Chabad and the Joint Distribution Committee (JDC). We've found ourselves in the past year or so dedicating more resources for Ukrainians interested in Aliyah. There are volunteers across the country. Christian organizations have actually been very involved in these efforts, transporting refugees out of embattled areas and helping them prepare for formal Aliyah."
When asked if political events prior to the war also are driving Jews out of the western part of the country – further away from the war zone – Mayer said the majority were from the Russian-speaking oblasts (provinces) in the east where the fighting is taking place.
"We've not seen as significant an increase from western parts of Ukraine or Kiev, but it is a modest increase. It's nothing near, though, what we're seeing in places like Donetsk that have been at the center of recent events there."
The conflict has impacted the entire Jewish community without regard for socioeconomic position or education. Perhaps as a result, he also makes the observation that while in the past Ukrainian Aliyah was primarily the realm of seniors and younger immigrants, the crowd has become much more eclectic.
"If we look at the Aliyah from Ukraine, we see it is pretty diverse and involves pretty much anyone in that area: attorneys, engineers, doctors, etc. In that sense it is very similar to what we are seeing in France where we have seen a cross-section of the Jewish community coming to Israel." 
But unlike the French Aliyah, "the Olim (immigrants) coming now are largely refugees. We're not, in many cases, talking about having a great deal of time to think about this process or the idea (of Aliyah) germinating in their minds for a while. In many cases, they have had to flee their homes and flee for their lives."
Once they get to Israel, Ukrainians have a safety net in the number of absorption programs that were already in place for former residents of the FSU (Former Soviet Union states). Renewed attention on their plight has also brought renewed attention on those programs.
"There are a vast range of programs that they can join through the Jewish Agency. There are programs for teens like Naale or Selah. There is also a vast range of programs specifically tailored to specific professions. Medical professionals can go to a specific absorption center and get training to pass Israel's certification tests."
When asked if the Jewish Agency had ever felt the strain of such an enormous humanitarian and absorption operation, Mayer expressed confidence in what the JA has managed to do so far.
"I think we've risen to the occasion. Other organizations are also helping in that regard. We've expanded our staff in Ukraine and when the need arises, we reinforce them with staff from Israel during particularly busy times."