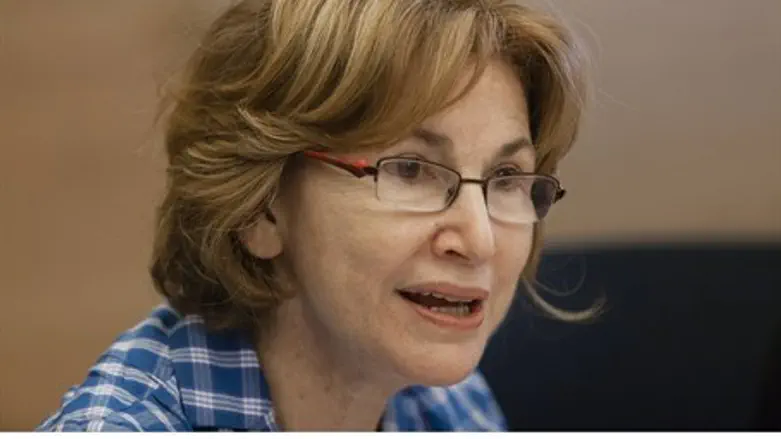 Health Minister Yael German
Flash 90
With haredi parties Shas and United Torah Judaism almost certainly joining Prime Minister Binyamin Netanyahu's next government, a number of laws and budgetary decisions passed in the 19th Knesset are likely to be eliminated. 
And the changes those two parties want to implement, as discussed in their coalition negotiations with Likud, will translate to about three billion shekels each. 
During a Channel Ten news program on Monday, MKs Yael German (Yesh Atid) and Gila Gamliel (Likud) addressed coalition negotiations and the recently passed laws now likely to be canceled. 
"On the eve of negotiations, we always see weighty demands," Gamliel stressed, "both for ministerial appointments and budgetary aspects. 
"From the center of the coalition, the amount of demands at the doorstep of those currently in negotiations are higher than the state's budget. You don't have to take it literally," she added. 
Former health minister German, however, was deadly serious about her sadness over the certain cancellation of the haredi draft law. 
"They are canceling the most important part of the equality of burden law - the criminal sanctions. Without them, what's this law worth?" German bemoaned. "Why should my son be treated differently from the sons of the haredim?" 
The former minister added that the transfer of funds to yeshivas, one of the haredi parties requirement to join a Likud-led coalition, is "a political bribe" and "government corruption at its best."
"All you wanted to do was create antipathy against haredim," Gamliel attacked German and her party in response, despite having voted in favor of the Yesh Atid initiative. 
In a veiled attack on Yesh Atid's role in the 19th Knesset dissolving, Gamliel added that the next government won't break apart in less than two years - a situation that causes drastic legislative changes. 
"Anyone who joins the coalition will sign on for a change of the government - the Knesset's next term will last four years at least and the largest party will form the government. Both of these will prevent a situation in which every year or two there will be coalition changes."
Angered, German attacked Gamliel's remarks for their "extraordinary contempt for members of the Knesset."