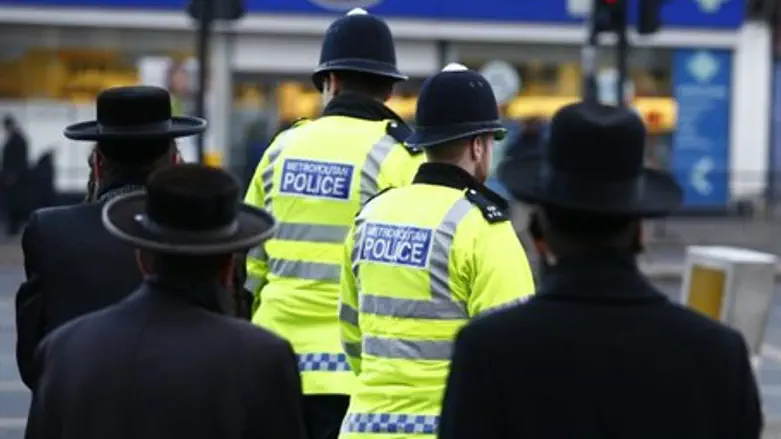 British police, Jews (file)
Reuters
The attack on a synagogue in north London early Sunday morning was sparked by a dispute between a Jewish teenager and party-goers across the street, the Jewish Chronicle reported Wednesday. 
The fight apparently prompted the teenagers attending the party to begin smashing doors and windows at the Ahavas Torah Synagogue in Stamford Hill, after the Jewish boy fled inside. 
But the incident was not motivated by anti-Semitism community leaders and police confirmed. 
Rabbi Maurice Davis related to the Jewish Chronicle that "there was a party happening across the road. We think a Jewish boy at the party ran out and got into a fight with other party-goers on the street. He came into the shul and it got out of hand, that's when the other people smashed the windows."
"We want people to know it wasn't an anti-Semitic incident. Tottenham is such a wonderful place to live we have tremendous social cohesion here, and everybody gets on and we haven't had any experience of anti-Semitism.
Police backed up the Rabbi's statement, with Metropolitan Police Commander Mak Chishty noting, "it was not anti-Semitic, thank God, but it was a crime and it was anti-social behavior and we all understood that."
Footage of the assault shows around 10 people inside the synagogue attempting to defend themselves with chairs and clubs as a group of drunk youths attempt to force their way in. 
The group began hurling sticks, smashing glass windows, and threatening the congregants. Although it was reported the gang shouted "kill the Jews," only one teenager is being investigated for racially aggravated abuse. 
Earlier in the week, Arutz Sheva spoke with Shuki Moses, who was present during the attack. He noted that the incident did not start as an anti-Semitic one, but became so when the attackers began to shout anti-Jewish epithets.
​
On Monday, the Metropolitan Police said they were treating the incident as anti-Semitic, but added that they did not have a reason to believe it was "a planned or targeted attack".