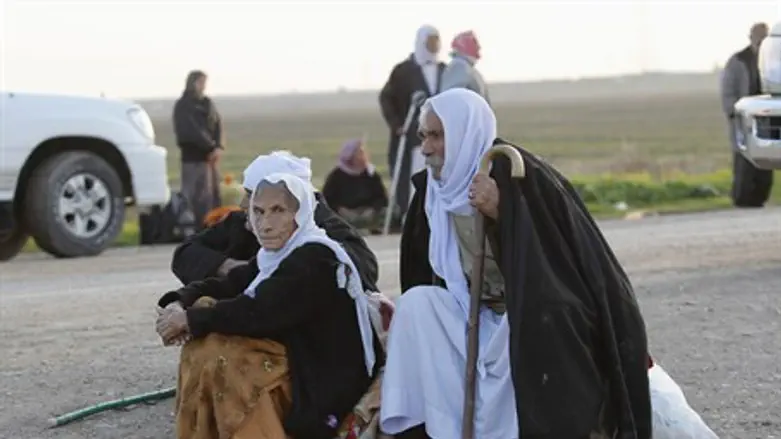 Yazidi refugees in Iraq
Reuters
The number of asylum-seekers in industrialized countries rose by nearly half last year, driven by the devastating conflicts in Syria and Iraq, with Germany the top destination, the United Nations refugee agency said Thursday, according to AFP.
In 2014, some 866,000 people applied for asylum in such countries, marking a 45-percent jump from a year earlier and a 22-year high, the UN refugee agency said.
The surge is linked to the spiraling conflicts in Syria and Iraq, which have created "the worst humanitarian crisis of our era," spokeswoman Melissa Fleming told reporters.
As a sign of the crisis, the number of asylum applications last year was the second highest on record, coming very close to the all-time-high of the about 900,000 requests made in 1992, at the beginning of the conflict in Bosnia and Herzegovina, UNHCR said.
Syria's conflict, now in its fifth year, has killed more than 215,000 people and forced 11.4 million people to flee their homes, including nearly four million who have left the country.
Last year, 150,000 Syrians applied for asylum in industrialized countries, marking a 166-percent hike from 2013 and accounting for a fifth of all asylum claims, the UNHCR report said.
The number of asylum applications from Syrians especially is expected to swell further, Fleming said, pointing out that many of the some 3.9 million Syrian refugees scattered around neighboring countries are growing weary of waiting for the conflict in their country to end.
"What we are seeing now is a trend towards ... a feeling like this war is never" going to end, Fleming said, pointing out that many had set their sights on Europe.
As the violence in Syria has spilled over into neighboring Iraq with the ruthless Islamic State terrorist group, Iraqis too have been leaving in droves.
Last year they accounted for 68,700 asylum applications to wealthy nations - almost double the number a year earlier - while Afghans made up the third largest group, with almost 60,000 applications.