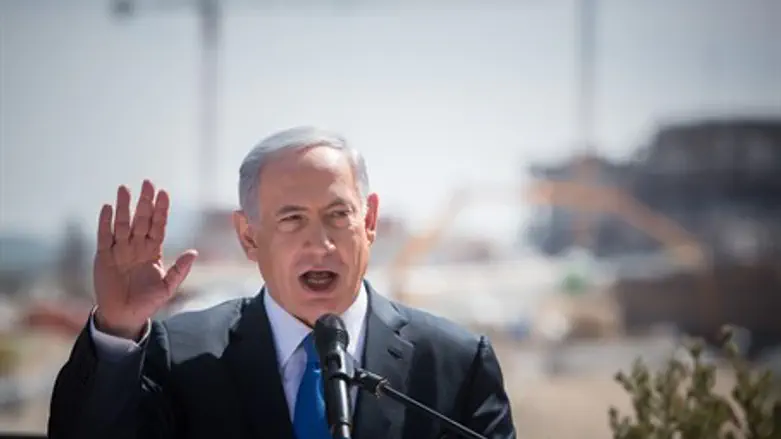 Binyamin Netanyahu promises building in Har Homa (file)
Yonatan Sindel/Flash 90
A leftist "anti-settlement" NGO director discussed the scope of the freeze against Jewish construction in eastern Jerusalem, Judea and Samaria on Wednesday, after a plan to build 1,500 housing units in the southwestern Jerusalem neighborhood of Har Homa was cancelled without reason.
The cancellation is all the more notable given that Prime Minister Binyamin Netanyahu visited Har Home before he won in elections, promising to build thousands of new homes if re-elected. It comes as Netanyahu and US President Barack Obama are in a tense standoff, with Obama threatening policy changes over Netanyahu's pre-election statements indicating a two-state solution wouldn't occur any time soon.
Daniel Seidemann, director of the leftist Terrestrial Jerusalem group, told AFP that reports presenting the plan cancellation as a case of Netanyahu folding to foreign pressures have "a ring of truth" to them - Netanyahu reportedly began freezing Jewish construction in late 2013 as part of peace talks pressed on Israel by the US, a covert and unofficial concession aside from the official "gesture" of releasing 78 Arab terrorists.
"This would be a particularly inflammatory plan and I think that he's afraid that the ceiling would cave in on him," Seidemann said.
Seidemann detailed that the cancelled plan was for construction on private land in western Har Homa, which had been shelved a year ago during Netanyahu's covert freeze but had come up again now for initial approval.
The leftist NGO director clarified that after a brief spurt of approvals in the Givat Hamatos neighborhood of Jerusalem last September, the unofficial freeze on Jewish construction in the eastern part of the capital has been absolute.
"Since the approval of Givat HaMatos - and I'm speaking exclusively about east Jerusalem - there have been no new tenders, no new plans deposited for public review and no new plans approved - which is quite remarkable," he said, noting surprise at the extent of the freeze.
Seidemann acknowledged that since the Har Homa plan is a private initiative, Netanyahu is limited in his ability to block the plan, which is meant to allow for natural growth in the city which is suffering a severe housing crisis, even as there are over 40,000 illegal Arab housing units in it, growing at a rate of 700 to 800 new illegal Arab units per year.
"Netanyahu is obviously going to be very cautious at the moment given the nature of his relations with the US. On the other hand, his authority to hold up a private plan is limited," he said.
Motive: an Arab capital?
Seidemann revealed that part of Netanyahu's impetus in blocking the plans is that they would ensure the united nature of Jerusalem as the capital of Israel, and create a de facto barrier against the possibility of linking eastern Jerusalem with the Arab population centers in Judea and creating an unbroken chain of Arab residence that could be part of establishing an Arab state.
Expanding Har Homa would create "an effective buffer between Bethlehem and Jerusalem, and that is a game changer," he said, noting it would prevent establishing a contiguous Palestinian state with eastern Jerusalem as its capital.
Netanyahu quickly backtracked from his statements against the two-state solution during elections, saying he never changed his position and still is dedicated to creating a Palestinian state. 
Jerusalem Councilman Arieh King has long charged the prime minister of creating a de facto division of the capital on the ground, forbidding Jewish entry to eight neighborhoods and blocking Jewish construction, all while allowing rampant illegal Arab construction to continue unchecked.
When approached by AFP on the Har Homa plan cancellation, Netanyahu's office neither confirmed nor denied the report, saying the plan "was not sent to the prime minister's office."
"Regarding other plans that were not brought up this week, there will be a discussion on the matter when the new government is in place," it said.