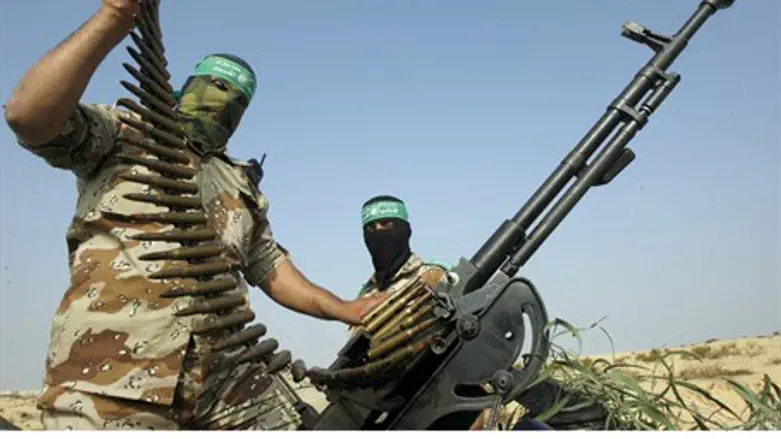 Hamas terrorists in Gaza (file)
Flash 90
A protest was held on Tuesday in Gaza in front of the Hamas government building, in which the families of "martyrs," Palestinian Arabs who died during clashes against the IDF, demanded to receive monthly salaries from the Palestinian Authority (PA) unity government.
Adal Hanif, the spokesperson for the "martyr" families, said at the protest that 41 families of those who died taking part in the Hamas wars against Israel in 2008 and 2012 did not receive their monthly stipends from the PA, despite the fact that their names were on the lists sent to the unity government in Ramallah.
Hanif addressed his demand to PA chairman Mahmoud Abbas, urging him to command the PA finance ministry to pay those salaries that have yet to be transferred, as well as other wages for Gaza workers that have been delayed for the past six months.
According to Palestine Liberation Organization (PLO) law, the family of a "martyr," or those who have been arrested for their terrorism or else wounded during clashes against Israel, are eligible for monthly stipends from the PA, in a direct financial incentive rewarding terror.
Additional aid is received from Palestinian Arab "charity" organizations, which dispatch financial aid in accordance with regions of activity in which the incident of wounding, death or arrest occurred.
In practice, the stipend functions as a sort of social insurance - it is also handed out to terrorists who committed brutal acts of mass murder.
The amount given to security prisoners, namely terrorists who have been jailed, increases in relation to the time the prisoner is in jail. The salary only goes to jailed terrorists, as criminal prisoners do not receive the aid.
The highest monthly wages for a security prisoner are higher than the average monthly salary of an officer in the PA security forces, indicating the clear incentive the PA gives in encouraging terrorism against Israel.